Village life a haven for Ellen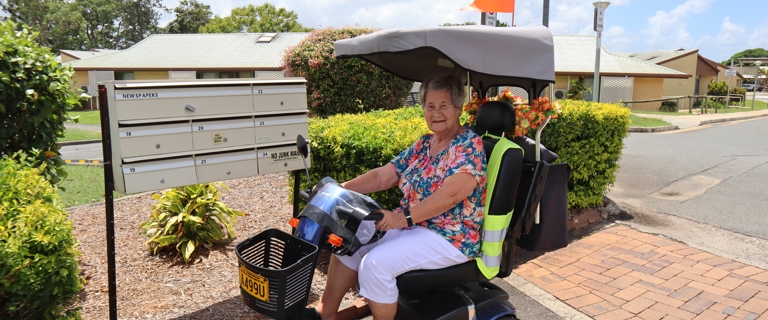 Ellen Campbell knows well the value of having a haven to call home.
Growing up in Germany during WWII, it was her mother who shielded her and her siblings and kept them safe. For the past eight years, her home and haven has been Bolton Clarke's Fernhill retirement village in Caboolture.
"I don't recall being particularly frightened back then," said Ellen. "I think mum did a fabulous job looking after us.
"Here I feel the same – safe and looked after, secure too but independent.
"It's the best of both worlds."
Ellen spent 10 years living at Bolton Clarke's Baycrest retirement village in Hervey Bay with her husband before moving to Fernhill to be closer to family.
"When my husband died, I wanted to be closer to my daughters, so I made the move. I've been extremely happy here.
"It's so central. I can go across the road and everything is at my fingertips, and there's extra help on hand if I need it.
"That was one of the reasons we first chose Bolton Clarke – the extra care available in the aged care community.
"I think it's the best step you can make because you have your independence and a circle of friends, but you're safe and looked after with plenty of activities."
Ellen says the community lifestyle keeps life interesting.
"There's no pressure to do anything but I think if you don't get involved that can be a waste – there's so much to do!
"Last year, having neighbours close by to go on walks with or catch up with near the letterbox or over the front porch – we had a lot of driveway tea time chats – meant that it felt less severe and less isolating than if I was living by myself in a family home.
She said she enjoys Fernhill's on-site hairdressing services and is looking forward to using the brand-new café and seniors-friendly gym when they open later this year.
"I go to the hairdresser and get my hair washed every week. It's my little bit of pampering.
"I'm looking forward to the café and gym! I went to the gym over the road up until 2019, so I'll be giving the new one a try."
Ellen's keen to contribute to her community and volunteers to deliver village newsletters and updates to fellow residents for Village Manager Sharon Rodgers.
"If I'm here I drop things around for her It makes me feel useful and it's a big of extra exercise and fresh air.
"We're a community – we like to help each other out and look after each other."
Tags: haven | Jacaranda Cafe | seniors friendly gym | community
More from our retirement villages...