Moreton Shores magical music winds back clock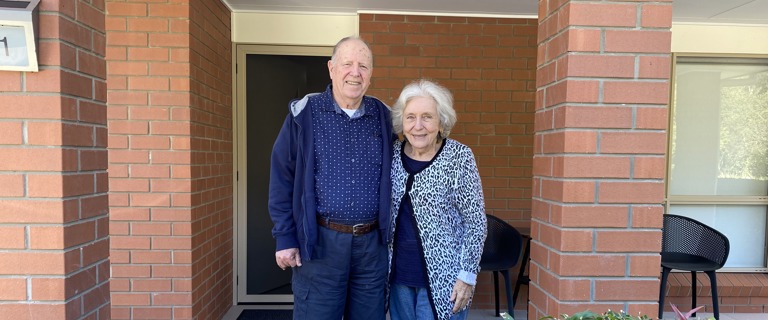 Brian and Kathy Thomas say the move to Bolton Clarke's Moreton Shores retirement village at Thornlands has helped them wind back the clock.
"Everyone keeps telling us that we look younger and better since we moved," says Kathy.
"It's been a real relief for the whole family. We'd already downsized but it made sense to take a further step. Decluttering is freeing."
The couple have just celebrated their 60th wedding anniversary and say the move in March has meant more time for the things they love most.
"We weren't rushed into selling or making changes, but we're really happy here – the outlook is so nice.
"The comfort of this unit was unexpected - we have room for the office and Kathy's scrapbooking has taken over the second bedroom," says Brian.
"We always said we wouldn't come into a retirement village, but here we are!"
The loved-up couple haven't wasted any time getting acquainted with their new surroundings.
"We love going for walks together and always hold hands. People are warm and friendly when we walk around, we've met our new neighbours and we've had a few others come by to welcome us to the village."
Brian and Kathy first met in 1959 and bonded over their mutual love of music.
"I found her in the paper," says Brian. "She was a finalist in the RSL Centenary Queen Quest. Kathy worked at a music shop and my father went in there, she asked him for a donation for the fundraiser.
"We've always loved music, always been involved with it."
Kathy says the fundraising ball led to their courtship.
"We had to parade, and there was a big ball at City Hall. My mother asked Brian to be my partner to the ball and that was the start of our friendship. His father asked me to come to their house and play some music for them, and we began courting after the ball," she says.
Twelve months later they were engaged, although they ran into some Romeo and Juliet style opposition and Kathy's father didn't attend the ceremony.
"Our wedding was on 8 July 1961 and was a bit scandalous at the time, a Catholic and a Protestant getting married! Kathy's father had said he was going to object, so we were a bit relieved that he didn't come," says Brian.
They had four children, three boys and a girl.
These days they continue their love of music with their daughter, Anita Taylor, who is the director of the Redland City Choir - a community choir with over 100 members.
"It's all ages, and all ability levels, and all the money we raise goes to Redlands Domestic Violence Foundation," says Kathy.
So far, the choir has raised $40,000.
"It's been amazing to be part of it," Kathy says. "The concerts sell out.
"A few people from the choir have come by and been very impressed with our new place.
"We're so relaxed! We recommend it to anyone. We're just thrilled to be here."