The Bolton Clarke Research Institute is our own research and innovation hub.
It has forged a national and international reputation for high impact community health and aged care research.
Our Research Institute identifies practical solutions to enable greater independence, quality of life and choice about healthcare options for our customers and the wider community.
Our four key principles place people at the centre of our approach:
Person-centred: ensuring that all care respects and is tailored to the needs, values and preferences of the individual whether a client, resident, family member, carer or a member of the wider community
Co-design: bringing together the experience of all stakeholders to identify opportunities for improvement and make changes to a service, program, product or system
Translate research into practice: moving current research and evidence into routine care through knowledge translation and implementation
National approach: our research program has a national focus across home care, retirement living and residential aged care
Ultimately, our research aims to support our clients' ability to lead fuller and more satisfying lives with support from Bolton Clarke at home support, residential aged care and retirement living services.
Our research priorities
Our research projects concentrate on four key areas that underpin healthy ageing.
Optimising health and wellbeing
Improving management of common chronic conditions
Identifying, developing and evaluating preventative activities to support people to stay as independent as possible
Combatting loneliness and isolation
Services and supports identifying, addressing and/or preventing loneliness and isolation in older people
Addressing mental health
Assisting people experiencing mental ill-health such as post-traumatic stress disorder, depression, anxiety, alcohol and substance abuse; and their family and care providers
Evaluating the implementation of assistive technology
Co-designing the implementation and evaluation of technologies to maintain and improve function and independence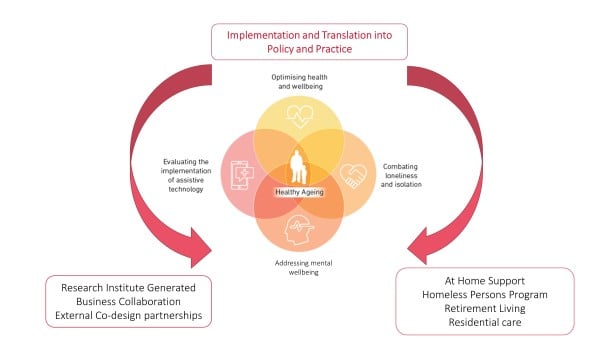 About the Team
The Bolton Clarke Research Institute comprises a multi-disciplinary team of research fellows and officers, and is underpinned by a strong governance framework including an ethics committee.
Click here for more.
Our research publications and conference presentations
Click here to see our publications or conference presentations