Margaret marks Grandparents Day with a swim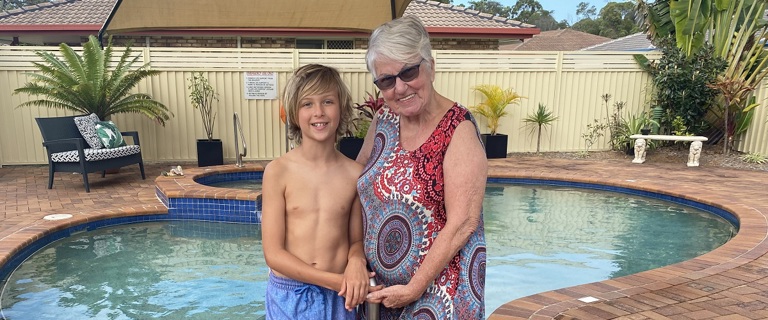 Margaret, 78, loves her four grandchildren who live only streets away, considering her role as a grandma a vital support.
Margaret has helped raise three teenagers, been the voice of a reason, holidayed with the family, done dutiful school drop-offs and pickups and even taught her grandson, 9, to swim.
Grandparents Day 2022 is celebrated on 30th October and it's a special occasion to celebrate older members of the family for all that they do. And they do so much.
The Bolton Clarke Bongaree retirement village resident took her grandson Matthijs into the pool with her in the village as a tiny baby and watched him develop water-based skills.
"He loves the water, fishing and he is a very confident swimmer now," she said.
"I started to get him comfortable when he was a few months old, taught him how to stand up on the steps and here's where he learnt to swim."
Margaret is a very hands-on nana who has gone above and beyond to enrich her grandchildren's lives.
"Nana's place is a popular drop-in 'home away from home' where we've played lots of games, but the only game I refuse to play is Monopoly because I always lose," she said.
"I love them all – they're gorgeous – and we're a very close family.
"After I lost my husband in 2017 it's very lovely to have grandchildren around.
"My daughter-in-law is Dutch, and she has no family out here, so I've been like a surrogate mother to her too while the children were babies.
"I became a grandmother when my daughter gave me the first grandchild with great excitement.
"I have established a good bond with the kids and the parents really appreciate a second pair of hands."
Margaret says grandparents play an important role in family life.
"It's so important for young people to have their grandparents close by," she said.
"I've helped take the pressure off their parents and if they need anything they ring and I'm always there for them.
"Grandparents play a big part in children's formative years giving you a lot of happiness - whatever you put in you get back tenfold.
"Little ones need an extended family because it helps them shape their identity and learn respect for older people."
Margaret says the key ingredient which makes a good grandparent is "a whole lot of love."
"I Love the children and provide a happy place for them to come to and spend time with them to help nurture a really good friendship," she said.
"I always listen to their stories when things are going smoothly at home and try to mentor them like a second parent in a way."