Rowes Bay sisters heed adventure's call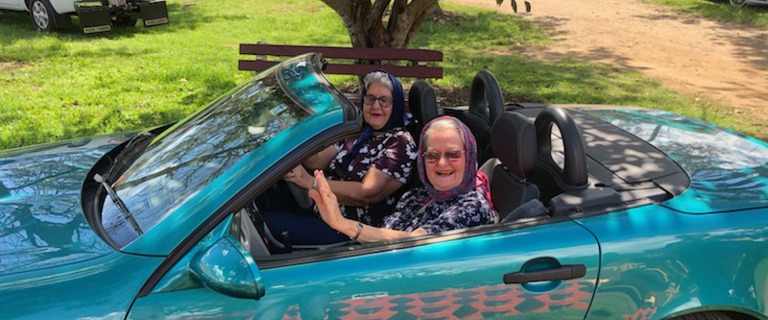 For sisters and Bolton Clarke Rowes Bay retirement village residents Margie Scorse and Lynne Clancy there's no place like home – but that hasn't stopped them answering the call of adventure to explore Australia in style.
Earlier this year that meant ticking a few items off their bucket list as they headed from South Australia to south-east Queensland by river and road.
After exploring the mighty Murray River aboard the Murray Princess, they lived out their own 'Thelma and Louise' moment with a road trip in a 20-year-old Mercedes convertible.
"We were headed to Lynne's sons' belated 60th birthday party and drove the car from Kilcoy to Ravensbourne, Toowoomba," says Margie.
"It was a bit of fun and it's pretty amazing, but don't bother giving me one!"
Lynne agrees while they loved the glamour, her sister has grander tastes.
"She'd rather drive a Mack truck!" Lynne says.
Margie says perfect weather made their convertible drive exhilarating and their trip a real holiday – especially because life in the village means they know everything is being taken care of at home.
"We know people are there keeping an eye out for us. There's someone to collect your mail and your paper and you can leave your spare keys with a trusted neighbour.
"Life in the village is absolutely wonderful. It's the best move I ever made."
Lynne was the first to downsize into the Rowes Bay retirement village, later convincing two of her sisters to follow suit. A third sister moved into a Bolton Clarke village at Bribie Island.
Margie said leaving her large family property was hard at first, but that village life affords her a better lifestyle.
"We don't have to spend all day every day on housework, and someone does the mowing for us. It's a more economical way to live – and we can go on holiday, but most of the time it feels like we already are!
"We're living in paradise, right by the beach. It feels like a holiday resort!"
When they're not travelling, Margie and Lynne keep busy supporting the village community with event and cooking up a storm in the community hall kitchen.
"Everyone enjoys the home cooking," said Lynne. "We've got something on every day this week!
"It's all about bringing people together."
They're also cooking up plans for their next trip – this time north to Cairns and the Atherton Tablelands.
But both say there's no place like their home at Rowes Bay.
"We really love it. There's no place we'd rather be!"
Image:
Bolton Clarke Rowes Bay retirement village residents Margie and Lynne channelling 'Thelma and Louise' on their recent holiday.
Tags: Thelma and Louise | holiday | downsizing | adventure | convertible