Lights, Camera, Cazna Gardens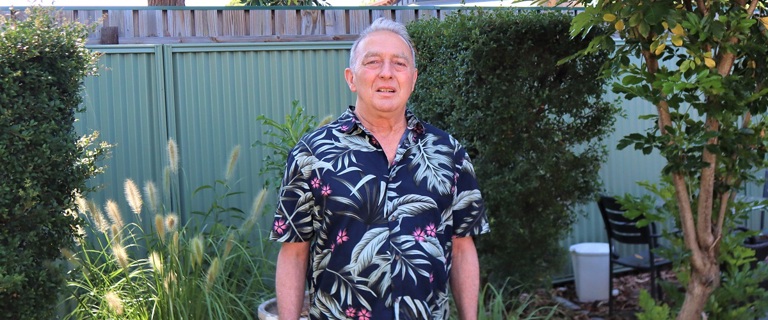 Cazna Gardens Retirement Village resident Bob is no stranger to the limelight – as well as working for the Air Force and as a nurse he has worked for a band and in the movie industry.
And since moving into Bolton Clarke's Cazna Gardens Retirement Village, he's putting his lifetime of skills to good use.
Bob joined the Royal Australian Air Force at 19 and trained as a medical orderly. He found a passion for helping people and stayed in the role for seven and a half years.
After some time travelling and working in Perth and New South Wales as a nurse in hospitals and aged care homes, he returned to Cairns and picked up an unexpected career in the movies!
"I was not long out of the Air Force, and I had my Enrolled Nurse certificate. They were advertising in the Cairns Post for drivers and I thought that being a driver for people in the movies would be alright, so I applied," he said.
"I showed them my Enrolled Nurse certificate and they said that they needed a second unit medic. I was used to working in the field as an Air Force medic, so I said yes.
"That's how I started out in the movies!"
Bob worked as a medic on many movie projects and even had on-screen cameos in a few of them, but his regular brushes with fame and LA superstars did not change his down-to-earth attitude.
Since moving into Cazna Gardens in 2016 his passion for connecting and caring for people has continued to flourish. He still enjoys socialising and getting his neighbours involved in new activities, which has led to the introduction of many new initiatives in the community.
"I got involved in the Men's Shed and nobody was overly interested, so I said to Jim who was running it, why don't we try show poker?
"Residents from the nursing home come down, and even though they have dementia, a lot of them still remember the rules of poker.
"We introduced that, and it's worked really well. It's great to see the smiles on their faces!"
Bob also loves to sing and puts on Christmas concerts for residents, while he exercises his green thumb tending the village's community gardens where he grows dark leafy vegetables for the residents.
Discover affordable retirement living
Get a free affordability report
Book a tour at any of our retirement living communities and you'll have the opportunity to sit down and chat with one of our friendly consultants. They'll provide a comparison report based on estimates of your current cost of living with the cost of living in a Bolton Clarke community - the results may surprise you!
Find out more