Keeping the art of spinning wool alive at Inverpine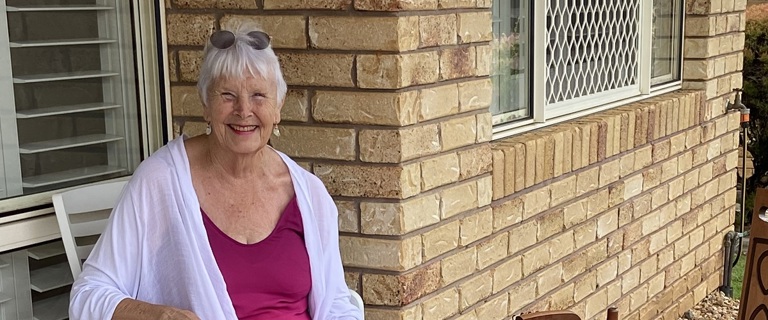 For Bolton Clarke Inverpine Retirement Village resident Eileen likes nothing better than to spin up a yarn - while spinning yarn.
Eileen and her spinning wheel are a common sight as she works on the terrace of her home and chats with passers-by.
"At the village, I take my spinning wheel out onto my terrace and sit out there in the cool of the evening and spin – people that come past on their walks will come for a chat," she says.
"It's an amazing way of engaging the public and a wonderful thing to breakdown any isolation."
For Eileen, spinning is a skill she has been honing for more than 70 years, first picking up the art at age seven in the 1950s.
"My mother was a war widow and she became a member of the War Widows' Guild Queensland," Eileen says.
"The group had organised to set up classes so that the women could earn a little bit of extra money to help with their families.
"I used to sit and watch the spinning and weaving classes and that's when my interest began, when I was around seven years old.
"Not many people know about spinning now, it's a dying art. It is something I like to call a 'slow-cloth' - just like how people refer to 'slow food' or 'slow fashion' because it takes time.
"It would take me a whole year to get the fleece, get it ready for spinning, then spin it, ball it, dye it, then knit it up into something."
Now, Eileen joins other like-minded women to explore the art, sharing tips and tricks as well as connecting to those in the Inverpine community who want to know more.
She also shares her skills as a member of a spinning group at Dayboro.
For International Women's Day we are celebrating women just like Eileen who are exploring their passions to connect to their local community.
Retirement Living
A lifestyle you'll positively love
We're big believers in new beginnings. A new home, a new chapter, a new lease on life. We think that's the way your life in retirement should feel.
Located all the way from North Queensland down to Victoria, each community has care and connection at its heart, truly offering the space, security and support to focus on family and friendships.
Find a community