Café becomes retirees favourite watering 'hole in the wall'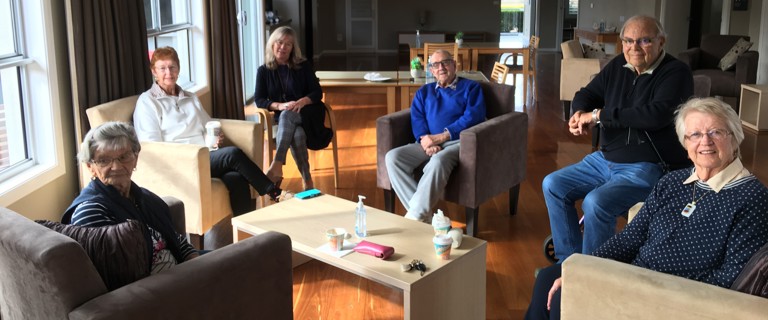 The "Hole in the Wall" café at Bolton Clarke's Broadwater Gardens retirement village in Port Macquarie has become the caffeine-fueled antidote to social distancing challenges for resident retirees.
The residents, who usually enjoy their monthly coffee club in the village clubhouse, have been gathering in smaller groups to pick up their daily cappuccino outdoors courtesy of Bolton Clarke Village Manager, Allison Purdy.
This week, the café was chosen from a field of more than 20 projects as a winner in Bolton Clarke's inaugural Innovation Tournament for ideas promoting social connection.
Broadwater Gardens residents say that's exactly what the "Hole in the Wall" has done over recent months.
"It's certainly fun!" says resident Carol Cosgriff.
"The Hole in the Wall café has allowed us to see our neighbours and share morning tea – we can all join in with each other."
Carol says having the café open every day between 10am and 3pm has made a big difference to resident morale and has fostered some new friendships too.
"Being able to come anytime has meant I've caught up with different people in the village. It's good to get to know others who you don't always see," she says.
The café has encouraged more than just social interaction, making residents' lifestyles more active.
"Ending up here after a walk is very pleasant," says Carol. "It's great to see people sitting in the fresh air, having a coffee and a chat – it's been a great innovation.
"Having options for fresh coffee each day has been great – and (Village Manager) Allison is getting to be a better barista every day!"
Fellow residents Michael and Alison Rogers couldn't agree more.
"It's been very pleasant how lovely the small group gatherings are," says Michael.
"We all get along very well – and that's thanks to Allison, her ideas and treats – she has done wonderfully with the pastries, too," agrees Alison. "On today's menu was banana muffins. She's become quite the pastry chef!"
Allison says the café has had a positive effect on everyone– and given her the chance to refine her coffee-making abilities.
"I've definitely honed my skills over the last few months! I do not profess to be a star barista, but the residents do tell me I've gotten better," she says.
"We aren't looking to make a profit from our little café, just enough to cover costs – so the coffee prices are the best you'll find anywhere!"
Initially, residents were taking their coffees away for a walk or back home, but as restrictions have eased, they've been able to sit in smaller socially distanced groups.
"We arranged some takeaway cups through our coffee supplier, and I set up a tab system so that we didn't have to handle or carry cash. This way the residents can pop by whenever they want without worrying about keeping money with them. My office is right nearby so if I'm not in the window there's a little bell they can ring, and I'll come right out.
"It's also been a great opportunity for me to have regular interaction with the residents and get to know our community better."
The initiative has been so successful Allison has even added some themed days, including lunchtime hot dogs on a Wednesday.
"We were all missing our monthly coffee club and happy hours, and to have nothing was awful, but the Hole in the Wall café has lifted everyone's spirits," says resident Jill Chambers.
"We can bring visitors over here now, too," adds Carol.
Fellow resident Peter Cooper sums the venture up well.
It's "a very successful operation."
Image: Jill Chambers, Carol Cosgriff, Village Manager Allison Purdy, Peter Cooper, Michael and Alison Rogers enjoy their coffee.