Call for Seniors to join local intergenerational project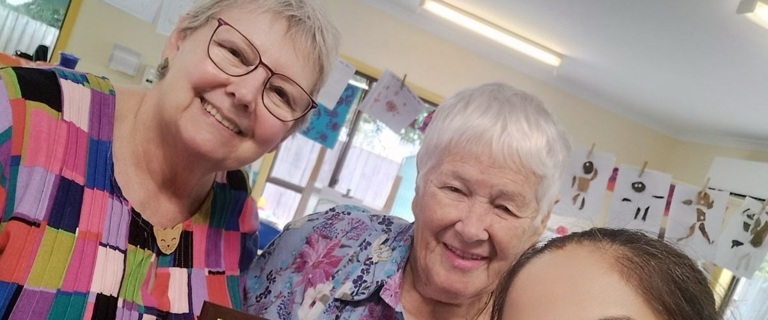 A new intergenerational community program is giving seniors and school students the chance to share experiences from cooking and gardening to reading and postcard writing – and older community members are being invited to join the fun!
The Intergenerational Community Partnerships Program– co-ordinated by Bolton Clarke Research Institute – will bring local older people together with Caboolture State School students to learn from each other.
The program is funded by North Brisbane Primary Health Network and is open to older people across the Moreton Bay region.
Volunteers will have the opportunity to engage one on one, in pairs or in a small group setting across a range of activities designed to encourage community connection and address social isolation and loneliness.
Local resident June is already enjoying the pen pal project.
"Having never written to children before this is quite a novelty. I noticed that even though there were a couple of spelling mistakes, the letter was so informative and with the emergence of computers, I was surprised and impressed to see how my pen pal was able to write a letter," she said.
"I feel the program is so beneficial - there are things to be learnt on both sides. It is interesting to see how the education of children these days differs from our days."
Bolton Clarke Fernhill Retirement Village resident Denise, who has volunteered for reading at the local primary school, says that for her it's all about keeping her brain active and giving back to the community.
"While I'm still active I want to do something worthwhile. I think that getting out and interacting with a different group of people will help me to stay young," she said.
Bolton Clarke Research Fellow Dr Claudia Meyer said the program sought to build social and intergenerational connections for local residents.
"Life transitions experienced by older people including retirement, death of a partner, moving home, losing driving capacity, onset of illness or loss of mobility can lead to isolation and loneliness through diminished social networks," Dr Meyer said.
"This project aims to help people create meaningful social networks and positive social relationships that connect them with the local community."
For more information, or to find out how you can get involved please contact Kerrie Tomkins, Project Co-ordinator on 0427 351 602 or ktomkins@boltonclarke.com.au.
Retirement Living
A lifestyle you'll positively love
We're big believers in new beginnings. A new home, a new chapter, a new lease on life. We think that's the way your life in retirement should feel.
Located all the way from North Queensland down to Victoria, each community has care and connection at its heart, truly offering the space, security and support to focus on family and friendships.
Find a community