Water tower used for parachute practice in 1942 to be painted to honour ANZACS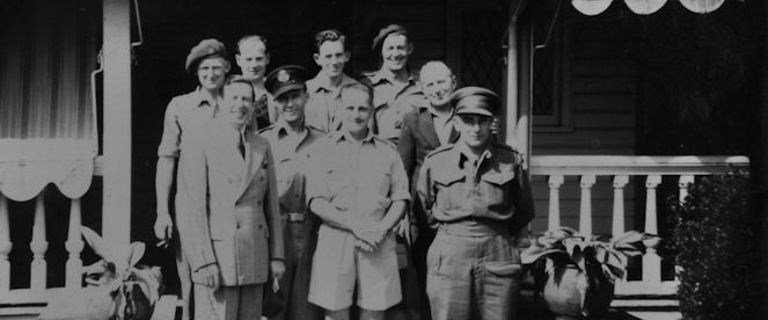 The community votes are in, and the water tower out front of Bolton Clarke's Fernhill community on King St, Caboolture - once used for Secret Intelligence Operatives to practice parachute jumping - is to be painted in honour of our ANZACS.
Residential Manager Ram Korla said Fernhill residents, staff and families were delighted that the community had chosen to honour the site's ANZAC legacy.
"Both designs were lovely – but all of us at Fernhill and Bolton Clarke were especially keen to see the ANZAC mural on the water tower," he said.
"For 3600 votes to come in, and 75% in favour of the ANZAC design – we are pleased that Caboolture agrees.
"It's so important to our residents, team members and to the Newman family, who donated 'Newman House' and grounds in 1947 to RSL Queensland to serve as a War Veterans Home, which over the years has turned into the Fernhill community we know today."
Before the Newman family donated the property, it had served as headquarters for Secret Intelligence Australia (SIA) during World War II. SIA operatives used the water tower to practice parachute jumping. The SIA were joined by Australian Army and Air Force, and small intelligence operations were led from Newman House into the Japanese occupied Indonesian Islands.
Built in 1927, 'Newman House' was an elegant 38 room timber mansion complete with service bell fitted into the floor under the table in the dining room.
The gardens – of which remnants remain today - were truly magnificent, boasting a fernery, goldfish pond, Chinese sunken garden, wishing well and a 14th century sundial. The grounds were a popular place for garden parties and social events.
Fernhill officially opened as a war veterans home in 1950 and has evolved over the years with the construction of a 24-bed nursing home in 1968, a recreation hall in 1973, day therapy centre in 1987 and independent retirement living units in 1993.
Construction on the next phase of Fernhill began in 2018, marking the beginning of a decade long, $48 million-dollar evolution. The first stage of the Future Fernhill project, due for completion in August 2020, includes a state-of-the-art new multi-storey residential aged care community which will continue to honour the legacy of the Newman family and our Veterans by incorporating preserved original elements in the garden and surrounds.