Downsizing's the 'goldilocks' move for Robert and Dianne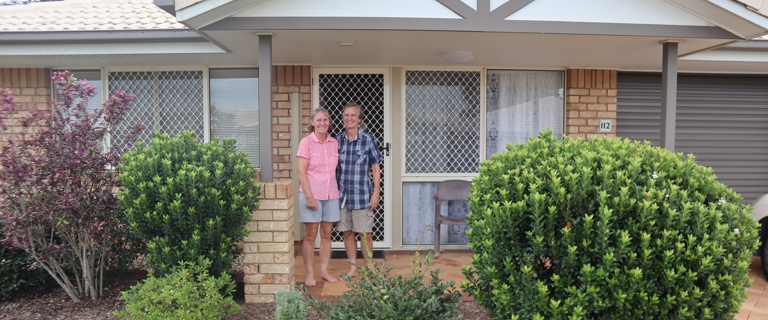 Downsizing from their family home on a large block was the 'goldilocks' move for Robert and Dianne Fraser, who moved to Bolton Clarke's Inverpine retirement village one year ago.
"We looked around a few places but this one felt just right," says Robert.
Robert, 70 and wife Dianne, 66 say village life has given them renewed youth and vibrancy – and they think more people in early retirement should join them.
"The years dropped away when we came here!" he says.
"It's not just for older people – we still get out and be social and have our independence. It's the best lifestyle here – better than the resorts.
"We didn't need all the extra bells and whistles – just good community."
Robert says making the decision now for their future leaves them plenty of time to keep enjoying life.
"We are healthy and active enough now to make smart decisions for our future. We aren't isolated here like we could have been in our four-bedroom home with young families all around.
"If circumstances had changed and one of us had to do it all alone – it would be much harder.
"Now we get to enjoy it all, and we don't have to look far for something to do!"
Sandra says village life offers all the benefits of community and takes the stress out of life.
"We love the pool and we use it every day," she says. "It's like being in a hotel because we don't have to maintain it!
"If you go for a walk around the block there's always somebody to talk to – so we aren't isolated - even last year we had plenty going on, including letterbox bingo!
"It's a big family, but the pressure wasn't on us to make friends or dive in straight away, we can do it gradually.
"We live our own life here with plenty of benefits."
Robert says the management and maintenance teams have been a great support, and the extra services and care on offer if they need it gives peace of mind.
"It's about security," he says. "We're looking ahead, and we didn't want to have to move twice. I wanted somewhere I can go where I can get care if I need it.
"The whole team is fabulous here and when we were looking, we didn't feel pushed to make any particular decision.
"They've really looked after us, and if we do need a hand at home - it's right there."
Their advice to others in retirement?
"It's a great life and a good community! Don't leave it too late - come and join us!"
More from our retirement villages...