Bribie local pays homage to lost friends and family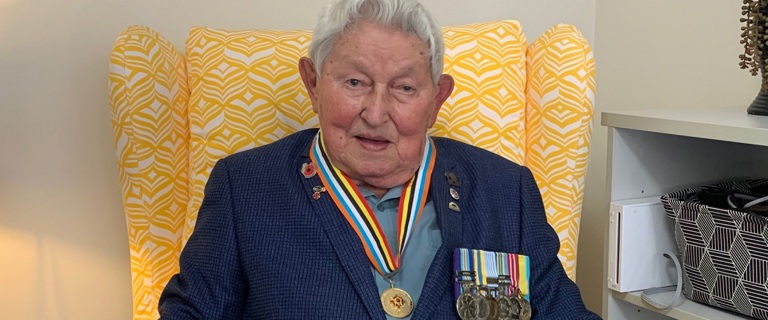 ANZAC Day marks a very special time for Bolton Clarke Bongaree retirement village resident and veteran Charles.
Charles was eager to join the Navy from a young age and as a teenager during World War II did everything he could to enlist, regardless of the age limit.
"I was 17 when I wanted to join but you had to be 18. I put my age up but I wasn't able to get in as I was a truck driver and they needed me because of the manpower shortage," Charles said.
"I eventually joined up in April of 1945. I started in October - after the war had ended - and was in the Navy for 12 years.
"I started as a torpedo man, but when they changed into separate divisions I went through as an electrician."
Charles said his strong will to serve stemmed from connections to the military through those he had lost.
"My two close friends were killed up in New Guinea, and my two brothers-in-law were taken prisoner there.
"Wally died in the prison camp and the one that came back, Ray, he was a skeleton - just skin and bones."
Some of Charles' earliest memories stem from stories of his Uncle Wilfred was called up to serve after moving to Australia from England.
"My mother told us a lot about my uncle - he moved my mother and her sister out here from England for the warmer weather and their health.
"They were only here for 12 months and then the war broke out and he got killed, so they lost their brother, who they were very close with of course."
Now, Charles attends the RSL club at Bribie Island every year connecting with fellow veterans and pays his respects to the loving memories he still holds of those he was close to.
"ANZAC Day isn't glorifying war. Once you lose good friends it's about paying homage to our lost friends and relatives.
"It's nice to see everyone with their medals – it brings back memories that you're proud of," Charles said.
Retirement Living
A lifestyle you'll positively love
We're big believers in new beginnings. A new home, a new chapter, a new lease on life. We think that's the way your life in retirement should feel.
Located all the way from North Queensland down to Victoria, each community has care and connection at its heart, truly offering the space, security and support to focus on family and friendships.
Find a community