Army carpenter Max builds his legacy from Sydney to Singapore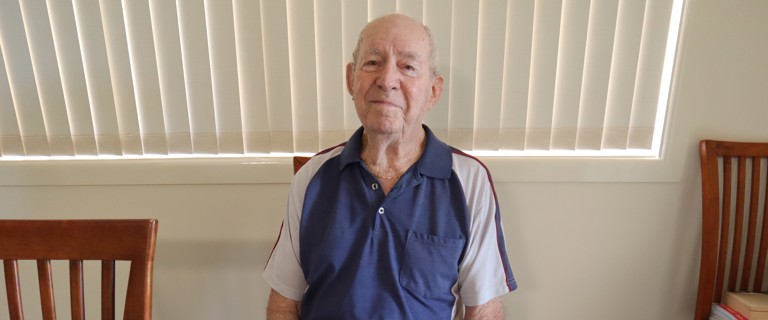 A career as an army tradesman sent Max Rostron across the world, from contributing to military base builds and humanitarian support in Singapore and Vietnam to helping construct Australia's iconic Sydney Opera House.
Max, now 85, lives at Bolton Clarke's Carrington retirement village in Parkinson with his wife Patricia and enjoys the relaxed lifestyle the village affords them.
Born at Punchbowl, Sydney in 1934, he grew up in Bankstown and Tea Gardens.
The small coastal village had no secondary school, so after completing his early schooling Max took a job as an apprentice baker.
"That lasted until I dropped a tray of the owner's prized jelly slice! It went all over the shop floor. For some reason or other they sacked me!" he said.
"There was nothing else for me in town after that."
He joined the Army at 15 after his mother saw an advertisement in the paper for apprentices. "All of the tradesmen were getting out of the military. To encourage new tradesmen, they started offering their own training programs," said Max.
"My mother put me into a three-year program and besides being a soldier, I learnt a trade. It was done under the guidance of the Victorian education system so when I came out, I was a qualified carpenter."
In 1952, Max took his first post to Brisbane and shortly after, spent nine months in Vanimo, New Guinea. There he helped build an army camp to support a company of Pacific Island Regiment soldiers during the West Irian Dispute.
His next post saw him move back to Sydney to train as a Building Foreman at Ultimo Technical College.
"I did so well on that, they posted me as a supervisor to the Sydney Opera House. It was very interesting because a lot of the techniques we used were only new at the time. The way it was built involved a lot of stress cables."
He spent two years working on the Opera House, and then was posted first to Wagga Wagga working as a maintenance carpenter and then as a building inspector in Adelaide.
"It was my job to make sure that the work being done was up to code and up to standard."
"Even though my qualification was carpentry, as you go along you pick these things up. You learn enough on the job to tell if the plumbers, plasterers or brickies are doing the work correctly."
Supervisory work followed in the Darwin barracks, and in Singapore.
"Other than New Guinea I'd not lived overseas. It was a very different culture, especially once you went out of the city confines. Inside the city you could have called it 'Little England' because Singapore had been under English influence for some time."
During the Vietnam War Max continued his supervisory roles supporting civil works for the Vietnamese people. The project was called 'winning the hearts and minds of the people' and focused on improving life for locals. He built hospitals, drilled water bores and supported the army's humanitarian efforts.
Returning to Australia, he retired from the army at 40 and moved to Tweed Heads NSW with his wife and two sons, Steven and Mark.
After his divorce he took work at the Builders Registration Board, now the Queensland Building and Construction Commission. His now wife Patricia was the accounts clerk there. Max says it wasn't quite love at first sight.
"It all started as a bit of a joke! Every year you had to renew your registration as a builder. One day, I walked past her desk with my paperwork and jokingly said, 'pay that for me and I'll take you out to dinner.'"
"The next thing I knew, it was sitting on my in-tray with a note saying, 'this has been paid - all I need now is a time and a date.'"
"We went out then, we liked each other, and we've been together ever since," he said. "I don't think we've ever had an argument."
Max and Patricia married in 1985 and have been together more than 34 years. Between them they have 8 children, 15 grandchildren and 3 great-grandchildren.
Max has difficulty with his short-term memory and says being part of the Carrington community has made life easy.
"The boss likes it," he says before adding, "it's very good, it's a nice quiet neighborhood. I like it here."
Tags: Veteran | army | carpenter | Sydney Opera House
Other news from our retirement villages...