Toowoomba retirees remember parades past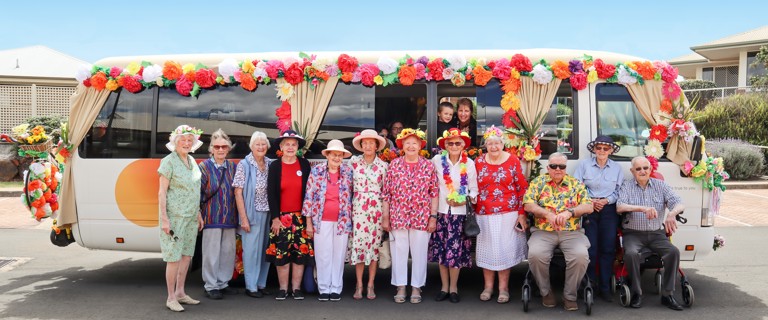 Every Carnival of Flowers is memorable. But for Bolton Clarke Westhaven retirement village residents, who turned the village bus into a float for Saturday's grand parade through Toowoomba, sharing the memories of carnivals past was just as important as creating new ones.
For Marley Morgan, Laura Davis and Val Tame, the Carnival of Flowers brought back a trove of treasured recollections.
When weddings and Carnival collide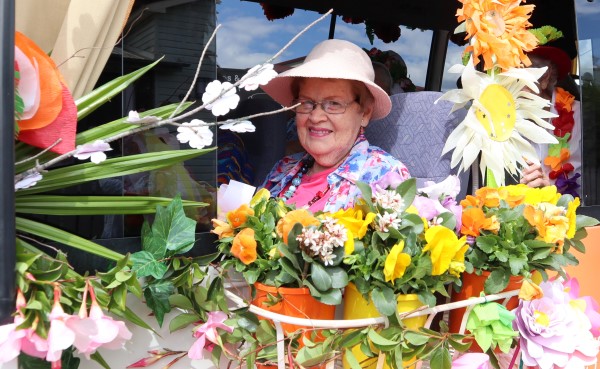 For 78-year-old Marley, it is the first Carnival procession that stands out the most, as it was also her aunty's wedding day. She recalls watching the floats go by from the roof of the reception venue.
"We got through the upstairs window and climbed out on the roof to watch the procession while we were waiting for the bride to come," she said.
"The procession was very long, but it wasn't boring, it was very interesting. It was almost 100% real flowers in those days, and it was very busy."
"The Carnival brings back many memories. I think back to what it was like, the first Carnival day. It was a day to remember. That's why Carnival of Flowers always means a lot to me."
Parade day brings back wedding memories in Laura's family too.
"My daughter married on Carnival Saturday 30 years ago in St James Church of England. All the memories are really good," she said.
Laura has lived at Westhaven since 2011 and was excited to join fellow residents in the parade.
"A lot of work went into decorating the bus. I'm very excited to be part of the procession today. I've not seen a procession for many years, and now I'm in it!
'51 Carnival Queen entrant still playing beloved sport
Val, now 86, recalls fondly her shining moments in the 2nd Grand Parade in 1951, when she was the Carnival Queen entrant for the Table Tennis Association.
"I was Val Brunner then," she says. "I was 16 years old and thrilled to be an entrant. I wore a beautiful broderie lace dress and rode in the procession alongside Betty Falconer. We were raising money, as you did in those days."
"We all enjoyed playing table tennis."
Val's passion for the sport remains, and she still plays regularly.
"All retired people should play it and come and live at Westhaven – because it's such a nice place to live. The fellowship and companionship are excellent, the people are nice, and we get on pretty well together."
"Vanessa (Retirement Village Manager) is like a mother to us. She goes out of her way to make us feel at home and feel welcome."
Residents take flower power seriously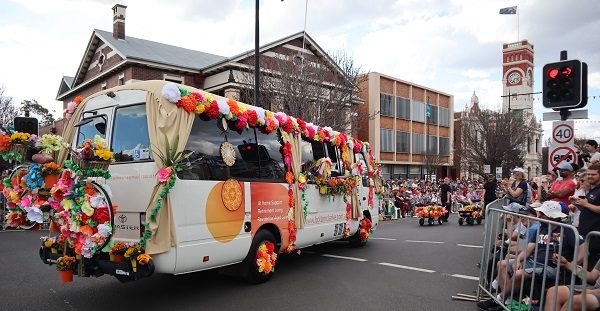 Westhaven retirement village residents rode aboard the bus in the Parade, many of whom had helped to decorate it according to this year's theme "The Power of the Flower."
Harking back to 70's 'flower power' the finished bus-turned-float was affectionately dubbed 'Rapunzel' as she looked so beautiful in her flowers and finery, most of which had been hand-crafted by the residents.
"Hundreds of hours of effort have been put into this float," said Westhaven Village Manager Vanessa Nugent "The beautiful paper decorations have been made by our residents during weekly workshops. They've crafted flowers, leaves and ivy."
"The project has provided hours of conversation and great opportunities to meet new friends."
"It's been the talk of our community for months. The morning of the parade, I drove the bus around the village so everyone could see. There was a lot of waving and excitement as if the Queen herself had been inside."
Images:
1. Westhaven residents including Marley Morgan, Laura Davis and Val Tame rode onboard the bus in the Parade.
2. Marley Morgan was among residents aboard the Bolton Clarke float in the parade
3. The Bolton Clarke community bus was transformed into a floral float for the parade