A Flying Launch for 'A Prodigious Leap'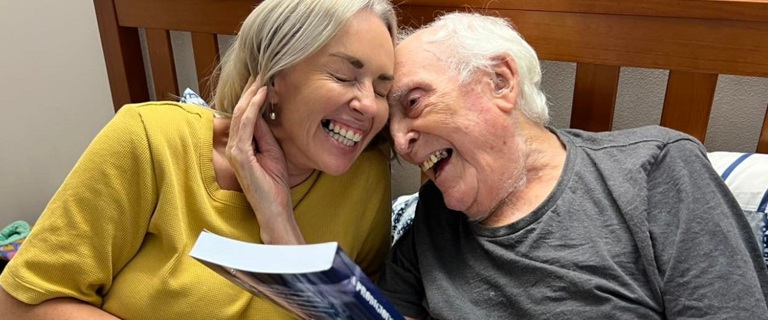 Between turning 100 and deteriorating eyesight, you'd be forgiven for not expecting Bolton Clarke Bicentennial resident Tom Barry to be joining a list of new authors. But Tom is out to prove you wrong!
After 15 years of writing, dictating, and editing, Tom's memoirs titled 'A Prodigious Leap' have been released to the world and befitting the name, Tom says the title has already taken off quite dramatically.
"It's a story about me, from A-Z. From my childhood, without which I wouldn't be the same, to the end of World War II," he explained.

Born in Sunderland, England in 1922, Tom says that life growing up in a poor household as well as attending a prestigious private school on scholarship prepared him for the future.
At only 18 years old Tom joined the British Army, fighting in the 4th Royal Tank Regiment before signing up for the British Intelligence Service. For 10 months Tom worked alongside Italian soldiers in the Italian Alps as part of the resistance, before he was captured by German soldiers.
He was tortured and interrogated for some time before being found by a Canadian solider in a windowless hut.
Tom says after spending six months in hospital in Frascati, Italy, recovering from his injuries, and with the subsequent end of the War, he struggled to share what had happened to him with his loved ones.
"I ended up coming back to Italy after going home to England for a time because I couldn't do anything about all of the things that had happened to me," he said.
"I kept it all in my head and decided not to tell anybody anything, not even my parents. It wasn't until I moved to Australia, and met my wife Ann in 1970, that I decided to open up."
With someone to listen to his story, and the support of the Mackay Regional Arts Development Fund, Tom was able to start the process of publishing his book. But it has been a long 15 years to get it ready for the rest of the world.
"I started writing my story on the computer, but I progressively lost my sight over a number of years," Tom said.
"I had to keep increasing the size of my font, toward the end I was only fitting five or six words on a line and mixing up the letters.
"I called it a rough copy, and it was rough indeed because my wife Ann couldn't even read it!"
It was with the help of Ann, Tom's late daughter Joanne, Bolton Clarke At Home Support staff and the generosity of close friends Doug and Jo Blackhurst that Tom was able to finish the book. The effort saw him dictating his story and editing the drafts with a little help from his community.
"The Bolton Clarke staff do their jobs so well, but they also do so much more," Ann said.
"Now, we consider them more than work acquaintances - they're our friends too and we feel so lucky to have their support."
In anticipation of his 100th birthday milestone, Tom says he is excited to be able to finally share his debut publication with the world.
To celebrate, a combined book launch and birthday celebration will be held on Saturday 30th July, Magpies Sporting Club 1pm onwards with family, friends, the local Mayor, Greg Williamson, media and community groups in attendance.
Tom's book is available on Amazon.
Tags: Centenarian | Book Launch | World War II | Memoirs