New year, new home for Ian and Sandra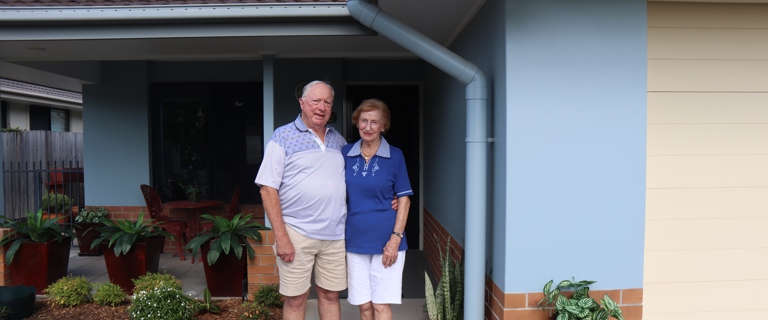 What better way to start the new year than with a new home?
That's what Ian and Sandra Heslehurst did when they made the move to downsize from their quarter acre at Sunnybank to Bolton Clarke's Carrington retirement village in Parkinson in January.
After 43 years in their family home, they wanted to stay in the area they love without the worry of maintaining their big house and pool.
"We went around five other villages on the southside but this one was by far the best," Sandra said.
"Straight away we were made to feel very welcome by residents, Village Manager Chantal Swanton-Gallant and Sales Consultant Margaret Silver, who have all been very helpful and accommodating.
"We were given plenty of time to arrange things and sell our home and we were invited to Christmas lunch and we hadn't even moved in yet!"
"It was a really nice gesture from Chantal and Margaret."
"We're still adjusting but it's lovely here. The rest of the village is rather nice too. It's easy to get out and about and we aren't far away from anything."
"It was the right move."
Ian agrees wholeheartedly.
"We should have done it years ago!" he said.
Their freshly renovated three-bedroom home with double garage provides plenty of room for gardening, grandkids, storage, sewing and Ian's study.
"Carrington really stood out in that regard," said Ian. "We wanted space and the home we got has plenty of it!"
"He's taken over the third bedroom," said Sandra.
"It's helpful to have a place to set up the computer, and I'm in the process of setting up my sewing room in the garage."
Ian says the storage space meant that they could keep their lives quite similar.
"It wasn't a big shift – I've even got room for the second fridge to keep a few cold beers."
They say the opportunity to 'Marie Kondo' their lives was quite welcome.
"It was cleansing," said Ian.
"We'd been on a quarter of an acre for a long time and had a lot of junk collected. We've kept all the important things, like our many photo albums from travelling."
"The big house and the pool had just got to be too much."
Now they're enjoying the convenience of a community pool without the maintenance worries - and with four children, 10 grandchildren and one great-grandchild there have already been plenty of opportunities to test the water.
"I took my two grandsons up to the pool the other day – and they loved it. We were pleasantly surprised that they were able to come with us," said Sandra.
Sandra says another bonus was being able to move near to her friend who also lives at Carrington in an assistant living unit.
"I always said to Ian that if I ever wanted to move to a retirement village that I'd like to live where she lives.
"Having the assisted units and the aged care community right there were a big factor in our decision making – it gives us peace of mind."