Judy's got peace of mind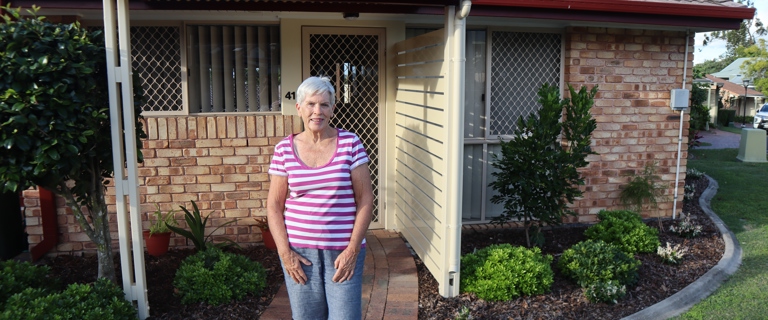 For Bolton Clarke Cazna Gardens, Sunnybank Hills resident Judy Jones, the decision to move from her Runcorn home to her village unit was made the minute she walked through the door.
"I walked into my unit and thought 'I'll have this,'" said Judy.
"I saw it and just knew it was for me – that I could live here."
Judy says location and choice were important factors in her decision. She enjoys the peace of mind village life provides, as she loves to stay active and travel as often as she can.
"Life hasn't changed," said Judy. "I still go swimming at the local pools and go for my long walks.
"If I want to go away I can – without having to worry about the house."
"When I'm home it's quiet, pleasant, and enjoyable, with less stress. Having no maintenance to look after is nice!"
"My friends and family are in this neighbourhood and I have the option to take as much ownership of my own garden as I like.
"The maintenance man does the heavier lifting for me and the gardeners trim the hedges and mow the lawns.
"I've got a lovely view too. I can see the top of the city and the lights at night. There's plenty of space so I don't feel 'locked in' – it's very nice."
Not having to stress in the future was also high on the priority list, and she knows she'll be well cared for, just as her mother was.
"My mother was one of the first residents at Bolton Clarke's Tantula Rise aged care community on the Sunshine Coast. Part of why I chose here is that I've got the extra support and care if I need it."
The transition from her Runcorn home last August was made easy with the help of Village Manager Chantal Swanton-Gallant and Sales Consultant Margaret Silver.
"I'm a minimalist so it was a simple process for me, and I was able to start moving in a week in advance with small boxes.
"The place had a spruce for me too – everything was easily handled and fixed very quickly without stress."
It's not just the Carrington village team who've been welcoming, and Judy has been getting to know her new neighbours.
"It's a very friendly community and everyone's cheerful.
"I like that it's not huge, it feels like a small community area, and I have capacity to get to know all my neighbours."
Judy's even volunteering to be the Cazna Gardens buggy driver.
"I'm going to help with driving round to pick people up for happy hour. I'm going to have buggy training lessons!"