A love story born out of the Australian Defence forces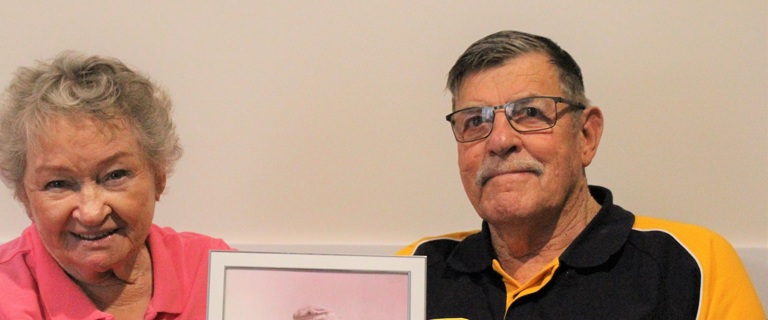 For Bolton Clarke Tantula Rise retirement village residents Neil and Patricia Eiby, the defence forces have been entrenched in their lives from day one together.
Neil's rich history in the military spans almost three decades of service across the 1st, 3rd and later 6th AIF Battalions, working his way through the ranks to become Regimental Sergeant Major of the 6th Brigade at Enoggera.
"Neil has never stopped since the time he joined the services," Patricia said.
"He got an Order of Australia in 1979 for his work in the 6th Battalion and the community.
"He later worked at the Royal Military College as an instructor with the cadets."
Originally joining the Army because of trouble at home, Neil found his calling within the military where he was known for his personality and unwavering commitment to helping wherever he could.
"At one stage we were appointed veterans from Gallipoli and would spend time with them, bring them to lunch and make sure they were okay – it was a really nice experience," Neil said.
"They were very appreciative of it and we would show them all the latest gear we had and things like that.
"Once those veterans died, that was it – we never had that again, but they will be remembered very well," he said.
After marrying, Patricia could no longer work as a teacher so decided to be closer to Neil as he travelled around Malaysia, Borneo and Thailand.
"It was fortunate that we had lots of people our own age, and they are still my friends today," she said.
Neil retired in 1984 but the couple have continued their work supporting the veteran community.
"After Neil got out of the Army, we spent 15 years as the Legatees for Kilcoy and Woodford, looking after 19 widows there," Patricia said.
"And we set up the new cenotaph overlooking Mount Mee for the Woodford community in 2010.
"He has always gotten on with everybody – he is just a people person," she said.
With a such a strong connection to the armed forces, Neil and Patricia commemorate Anzac Day every year to recognise those who have served for our country.
Retirement Living
A lifestyle you'll positively love
We're big believers in new beginnings. A new home, a new chapter, a new lease on life. We think that's the way your life in retirement should feel.
Located all the way from North Queensland down to Victoria, each community has care and connection at its heart, truly offering the space, security and support to focus on family and friendships.
Find a community