Downsizing creates connections for Jan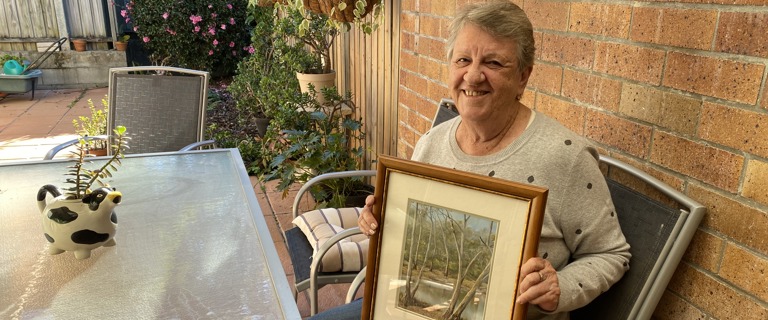 When Jan Tilley decided to downsize to Bolton Clarke's Carrington retirement village at Parkinson, she didn't expect to uncover so many connections to community and creativity.
The former teacher is finding that though her two-bedroom home is smaller than her family one, it's giving her plenty of space to reconnect with her creative side and make new friends.
"This place feels like the Tardis!" she said. You've no idea how much space there is until you've made the move.
"It's handy because you're connected to your neighbours, but you've got your own place. Going for a walk in the morning there's always someone to talk to.
"I only lived five minutes from here, and this place always attracted me, because of the layout and the way the streets are set.
"I've made some new friends, and discovered I taught one of my new neighbours' children at school.
"I even went to church last Sunday for the first time in a long time – it's nice to have more social occasions and different groups to spend time with."
Jan says her move in May was made easy with support from sales consultant Margaret Silver and village manager Chantal Swanton-Gallant.
"Margaret was lovely, professional and pleasant. She explained everything well, and Chantal – you can always get a laugh with her. Nothing seems to be too much of a problem, she's very friendly and on top of things.
"The house is set up very well, and the second bedroom is nice and big for my study."
Jan, who loves to write and enjoys painting, is toying with setting up a painting corner in her garage.
"I'm not a pure fiction writer but I draw from real stories and embellish a lot. I particularly enjoy comical poetry, and I painted a lot when I was younger and really enjoyed it."
Jan uses oils diluted down to water colour consistency and paints scenes she recalls from her travels.
"I love travelling, so I always paint landscapes from places I've been, from memory and a couple of photographs. It's very satisfying to put a bit of paint on and think 'that looks like a tree.'
"I disappear into my own world."
Jan says her favourite places to paint and travel are back home in Western Australia and through the Nullarbor Plain – but don't ask her to fly there.
"I'm terrified of flying," she said. "I've been all over Australia by train, and I love it.
"There's something quite mesmerising about the Nullarbor and the Blue Mountains – and the trip to Cairns is a beautiful one too, through the cane fields, rivers and forests.
"You can put me on a train any day!"
Jan likens life at Carrington to life as a teacher.
"At a school, there is community – and it's the same here. That's what I like about it."
Image: Jan has been rediscovering her creative side since downsizing from her large home