Cyndy's unexpected feline lifeline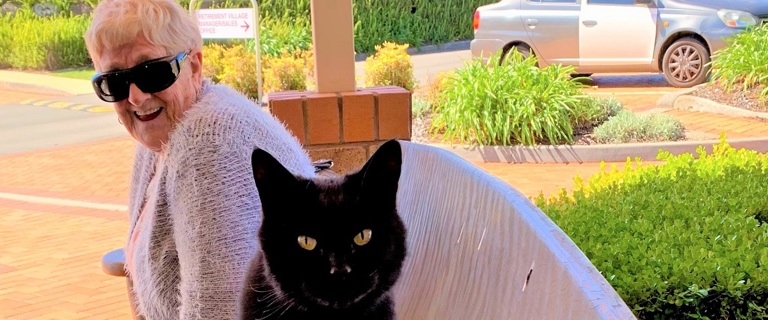 When Cyndy moved into Bolton Clarke's Westhaven Retirement Village in Toowoomba she found an unexpected new friend.
Having been a taxi driver in Melbourne for 25 years, Cyndy always swore that by the age of 80 she wouldn't drive anymore. It was that promise which brought her from the small town of Wyreema, outside of Toowoomba, to her new Westhaven home in April 2016.
A few months later in October, Cyndy recalls looking up to see a cat sitting on her doorstep.
"I opened the door and she came in and wandered around and then took off. She did that for a couple of days and after a little while I started to try and feed her,
"I had seen her wandering around the village, but no one knew who she belonged to," she said.
It was one friendly neighbour who identified the cat, which Cyndy had named Bubba, when dropping over the paper.
"Bubba had belonged to a man who lived in the Village, and then moved into the Aged Care Community when he got sick. The cat had always stayed with him, but when he passed away she came back down to the Village looking for someone to look after her!"
Bubba, who is now fondly known to everyone as the Village cat, has stolen Cyndy's heart for the past five years.
"I never even intended to get another pet, because of my age I didn't think I would be here to look after them for long enough.
"She was a very independent cat and it took me ages to figure her out. At the start, she wouldn't let me pat her or pick her up, she would hiss at me. Little by little and with a lot of love and affection, she has become a very spoilt cat."
Cyndy even remarks how Bubba could sense a change in her health and kept a careful watch over her after she had a stroke.
"When I came home from hospital she was under my feet the whole time, I would get up to make a cup of tea and I would turn around and she'd be standing behind me, watching. She followed me everywhere.
"She just knew there was something wrong and that she shouldn't leave me alone."
For someone who considers herself an introvert, Cyndy has found companionship with Bubba, as well as a connection with the rest of the community.
"Everyone knows who Bubba is, even If they don't quite know who she belongs to. I owe so much to Vanessa the Village Manager, because she is the backbone of the village, we would all be lost without her,
"She told me that she didn't know what to do with Bubba before the cat found me. Now Vanessa says she always sees her wandering around, but the funny thing is, Bubba never leaves the village.
"I think that Bubba will stay here, as part of this community, long after I am gone. But for now she really is my lifeline."