Fairways a family in more ways than one for Marilyn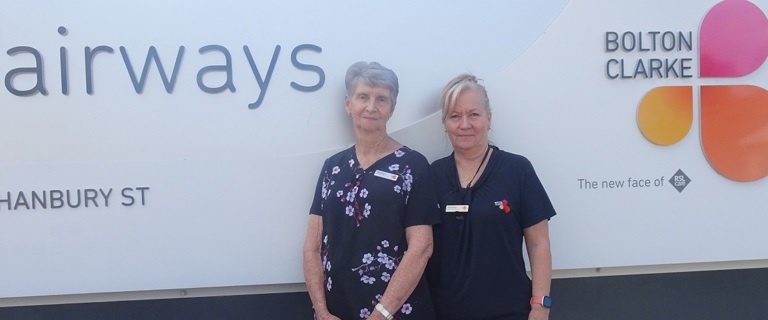 When family and friends arrive at Bolton Clarke's Fairways community at Bundaberg, it's no wonder the face that greets them at the door is familiar.
Marilyn Valler, 72, has worked in the community for the past 19 years. These days, she walks to work from her home in the co-located retirement village.
Born and bred in Bundaberg, she married Ross – a boilermaker from Sunnybank in Brisbane - and started her aged care career in the kitchen at the newly opened RSL Care Cazna Gardens community alongside friend and fellow Bundaberg local Damita Wood.
When Fairways opened 11 years later both decided to move back home, with Damita starting immediately and Marilyn first completing a Certificate III qualification.
Over the past 20 years she has become an integral part of the Fairways family, working for 11 years in special care and later as a physiotherapy aide before taking on her latest role.
"Last year I told the girls I might retire and they asked if I'd thought about working on the door," she says.
"I did the first day and wasn't sure about working the technology, but they said just come back tomorrow – that was in the middle of last year and I'm still there doing it now!"
In the meantime, maintaining their home at Bargara was becoming more difficult and Marilyn half jokingly suggested to Ross that they move into the retirement village.
"I mentioned it and he said yes, so we put our house on the market and talked to Village Manager Rob, who had a unit becoming available.
"We sold our home in a day and moved over here. I still work on Saturdays and Sundays, but now I walk to work!"
Marilyn said making friends wasn't a problem as she already knew a number of village residents who were regular visitors to the aged care community.
"Our residents are like a big family," she says. "Over the years I've met some beautiful people – the residents have so much they can teach you."
To add to the family feeling, daughter Sharon Wilson also works at Fairways as a Registered Nurse.
On Friday 3rd September, Marilyn and Damita – who also still works at Fairways as a carer – were among guests of honour when Fairways welcomed the local community to its 20th birthday celebrations.
Everyone was invited to join residents and employees in the celebrations including food and market stalls, live music and displays on the green.