RAAF Veteran exchanges flying high for a seascape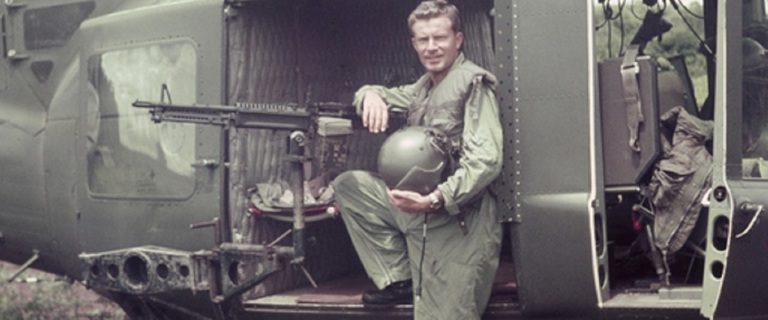 RAAF Veteran Dennis Olsen OAM has been living at Bolton Clarke Tantula Rise since the retirement community opened 14 years ago.
He had an impressive 42-year career in the Royal Australian Air Force (RAAF) which consisted of 22 years in the permanent Air Force, 17 years as a full-time active reserve and three years in RAAF cadet Air Training Core.
Over the four decades he travelled in Australia and internationally with active service, defence training and numerous representational appointments.
Although trained as an aircraft maintenance engineer, Dennis spent most of his career flying as a helicopter crewman and then as a flight engineer serving in the USA, France, Belgium, Indonesia, Malaysia, Cambodia and Vietnam.
In Malaya he was as a helicopter crewman providing a flying doctor jungle service for aboriginal and service people, always on the lookout for remnants of the still active communist terrorists – a post he remembers as one of his most rewarding.
"I loved it. I think that this service really shaped who I was as a young man," he says.
1967 saw him in Vietnam as a helicopter crewman/gunner, providing air service and protection to the Australian and South Vietnamese armies in many ways, including medical evacuation support.
During his long career he secured several awards and decorations including a battlefield mention in dispatch, an operational command commendation and an Order of Australia medal in the Queen's Birthday honours list of 1994.
Shortly after full retirement, health issues became a concern and the option of independent, supported living attracted him to Bolton Clarke's Tantula Rise Retirement village.
"With sand, sea and sunshine close by the move to the Sunshine Coast was an easy decision to make," he says.
"The friendship and security provided by the Tantula Rise community has gone a long way in providing a comfortable lifestyle as I move further into my senior years where further medical support will be needed.
"Where I live now, support is close by in the community as well as through Bolton Clarke's At Home Support team. I don't need to drive to Brisbane for specialist help, I have everything I need close by."