Port Macquarie identical twin says, "great minds think alike"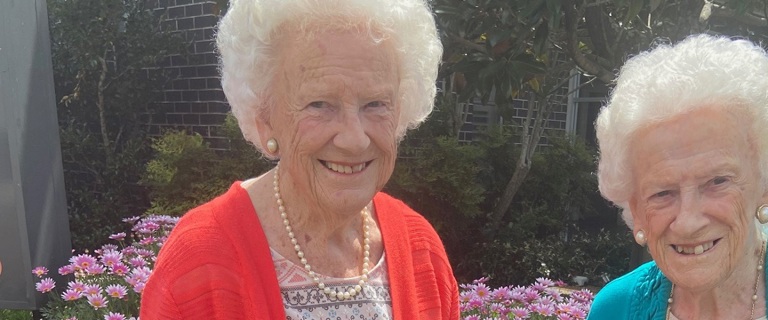 Port Macquarie sisters Patricia and Pamela have had friends and family seeing double for 90 years.
The identical twins, who grew up at Homebush, have spent their lives together and moved into Bolton Clarke's Broadwater Gardens Retirement Village together 16 years ago.
"We've always lived together and are very grateful we have got one another," Pamela said.
"We've always been best of friends and never had any barneys.
"We share similar interests and have done a lot of things together and we never married for whatever reason. We think alike, we like the same things and the same people.
"It's been easy to share our lives in that respect."
The sisters' interests aligned and have kept them busy – travelling in a motor home through Great Britain and Europe and at home with hobbies including photography, Probus club activities, Port Macquarie Garden Club, leadership roles within the church and in the Girls Brigade Movement.
"We were both also very keen tennis players and played competitively, loved handicrafts and were avid knitters," Pamela said.
The dynamic duo even shared the same career path after commencing at the National Bank of Australasia (later NAB) in 1948 as ledger machine operators.
Both remain involved at the NAB Mid North Coast Branch of the Retired Bank Officer's Club, of which Pamela was Secretary for six years.
Their twin status has given them opportunity for plenty of laughs over the years.
"We were asked many years ago have we always been twins?" Pamela laughed.
"Another person asked us if we are still twins, and we've also received many comments that it's unusual to see 'old twins'."
The sisters recently celebrated their 90th birthday with friends and have no intention of slowing down.
Tags: Birthday | Retirement Living