Redlands author shining the light on meditation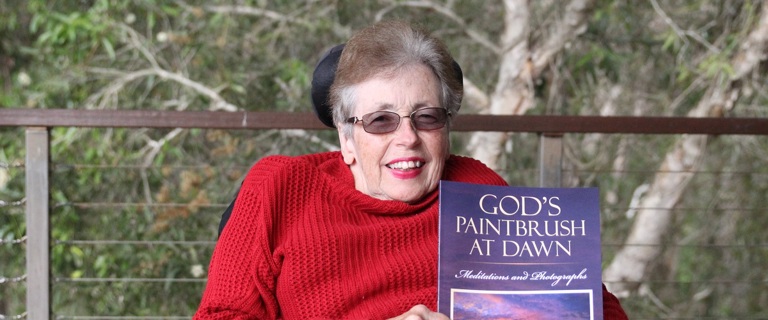 The sunrises of Redlands are the inspiration for a new book of photography and meditations co-authored by Moreton Shores retirement village resident Heather.
Living with a physical disability as well as overcoming melanoma and the death of her mother, Heather is passionate about drawing on her own experiences to help others, with this now her fourth book project.
"At the time of retirement when I was reflecting back on what my life meant, it was helpful for me to try and make sense of it all," Heather said.
"Writing the books and thinking about where I came from and what influences were important to me was kind of like therapy for me.
"I'm a fairly curious person and I love to find out how people experience the world and overcome their difficulties."
Heather's diverse career has seen her go from librarian to aged care chaplain, always with a keen sense to learn more which is reflected through each of her books.
"My first book was a memoir with a handbook on practical hints to relate more to people with a disability, while the second explores pathways to healing.
"I was then invited to write a chapter in a book called Don't Quit, about my journey with melanoma.
"Now book number four is totally different to the others and I have co-authored with Doug Tanner, an amateur photographer in the Manly and Wynnum area."
Heather and Doug's book features a collection of images from across the Redlands region with a focus on sunrise to reflect hope.
"Around the time that my mum died, Doug started sending me photos of sunrises because he goes walking every morning in the area.
"I have paired these with meditations, philosophers' quotes or Bible verses to relate to new hope, new life, or even light.
"The book shares moments where the light of insight has dawned on me or experiences which could be connected to a sunrise in some way."
God's Paintbrush at Dawn: Photographs and Meditations is now available online from Amazon.
Retirement Living
A lifestyle you'll positively love
We're big believers in new beginnings. A new home, a new chapter, a new lease on life. We think that's the way your life in retirement should feel.
Located all the way from North Queensland down to Victoria, each community has care and connection at its heart, truly offering the space, security and support to focus on family and friendships.
Find a community