Friends are the family you choose at Inverpine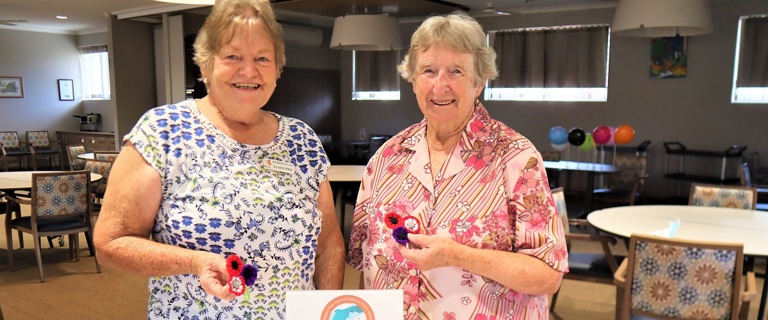 While it was family that first brought Elaine to the Inverpine Retirement Village at Murrumba Downs, it is the friends she has made that have made it home.
A retired Registered Nurse, she and husband Bud, who is a Veteran, have lived at the Village for 22 years. The pair first made the move to downsize after seeing how happy Elaine's Mum was when she moved into the then brand new Inverpine community.
"I was still working at the time, and Bud had retired, so we decided to move in here six months after my Mum had moved in," Elaine says.
"I have worked all my life in hospitals – looking after returned war veterans at the Greenslopes Repatriation Hospital and as the head of the Intensive Care Unit at the Royal Children's Hospital.
"I wanted a little enjoyment and lifestyle in the later years of my life!"
Friend Ailsa moved in nine years ago - drawn to the site because of family living nearby. She says since losing her husband only 15 months after her move, she has made some beautiful friends at Inverpine - including Elaine.
"Elaine is one of my best mates, we have a lot of laughs together." Ailsa says.
"There are lots of people here you can depend on if you need something. It's nice to know there's always somebody you can talk to, there's always company around."
Despite the years between moving into the Village, it was inevitable that Elaine and Ailsa would become friends.
"My husband says I can't help myself," Elaine laughs.
"When a new resident comes in, I go and welcome them. I hope that everyone enjoys living here and invite everyone to get involved and socialise,
"People here are easy to get along with - it's a happy environment to be a part of."
This is exactly what Ailsa found when she moved in. Between social activities like coffee morning, bingo, crafts and book club, the pair have also found time to give back to local charity Mates4Mates.
"We make a Poppy Spray with three different poppies in it for Anzac and Remembrance Day." Ailsa says.
"Elaine is the one that sells them - she has the gift of the gab, I always say that she could sell ice to Eskimos!
One day, I saw her wearing three poppy's and she looked like she was wearing a flower garden, so I went home and knitted some smaller versions and put them together in a posy - the jolly things went viral!"
Defence has always been a passion of Elaine's, from her nursing days and her husband's service in the Air Force. The symbolism of the spray is something very personal to her.
"One poppy is for Defence Members, one is for the animals that didn't return from war, and the other is for the nurses. We combine the three in remembrance of their sacrifice." Elaine says.
"We're the only one that do the white one for the nurses and I think that fascinates people. We sold 500 in our first year, and 650 last year.
The money raised from selling the Poppies, along with other fundraising efforts that Elaine leads, goes back to Mates4Mates. Ailsa says she loves being able to do something that helps others and keeps her busy.
Tags: Friendship | Remembrance Day | ANZAC Day