Getting the family involved at Tantula Rise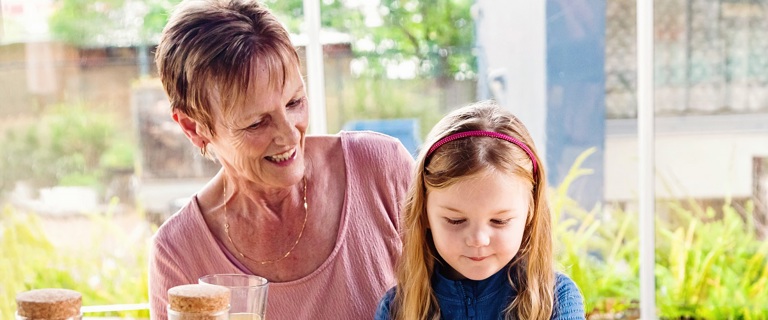 Seeing Bolton Clarke Tantula Rise Retirement Village over a video call from Western Australia was all Christine needed to know she wanted to call it home.
She made the move two years ago after her granddaughter found the village online, and says she has not looked back.
"I moved over from Perth because my grandson was moving here and my granddaughter found it on the internet," Christine says.
"It's different here, people are friendlier and it just feels like home.
"There is so much social life and family is included, which I love."
After 15 years of fly-in-fly-out work in the West Australian mines working in various roles, Christine wanted to slow down and be close to her family.
"Here, my family can just pop over for a swim, come to the barbecues, and when we are making things like Christmas decorations the grandkids come along and do it with you.
"It's just such a fantastic atmosphere!"
Now, her ability to connect with fellow residents and have her family mix with her neighbours makes Christine's life richer.
"My great granddaughter comes and stays here, and she has gotten to know everybody..
"A lot of the residents have grandchildren themselves so everyone loves having her around."
She says the village offers endless social events that she fits into the calendar along with nothing she needs to upkeep.
"It's all on your own terms whether you get involved or not and it's fine either way – it's different for everyone here.
"I'm so impressed with the fact that all the maintenance is included as well because I don't even have to change a light globe anymore.
"And, it's right off the road so it's quiet and really private."
Retirement Living
A lifestyle you'll positively love
We're big believers in new beginnings. A new home, a new chapter, a new lease on life. We think that's the way your life in retirement should feel.
Located all the way from North Queensland down to Victoria, each community has care and connection at its heart, truly offering the space, security and support to focus on family and friendships.
Find a community