Compassionate Heather shares marathon memoirs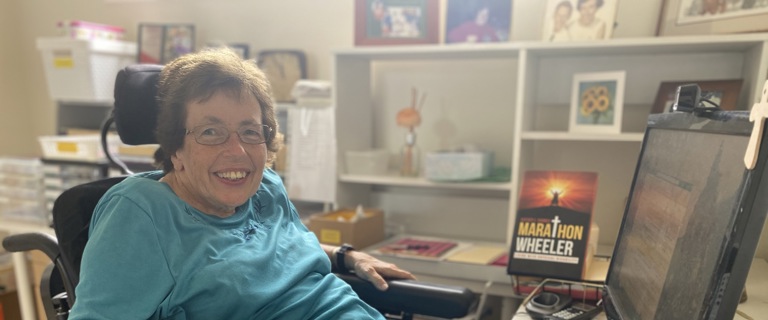 Bolton Clarke Moreton Shores retirement village's newest author, Heather Coombes, possesses a remarkable resilience, generous spirit and a compassionate heart.
They are qualities that shine through in her 2016 book, Marathon Wheeler - a memoir of her life born with cerebral palsy, finding her purpose and pursuing her passions of writing, librarianship and ministry.
Now with a second book on the way, Heather is well on the way to achieving her goal of helping people understand different experiences of disability.
"I wanted to share and give hope to others living with physical disability that life is not purposeless – but to also support families, friends and health professionals to understand the experience of living with physical disability," Heather says.
As well as accounts of her life and lessons learnt, Heather includes resources and practical information for people with disabilities and their support network.
'People often don't know what to say or do – I aim to bust some of the myths and mystery," she says.
Heather says writing the book reminded her of the importance of life, friends, family, nature and belief in something greater than yourself, and the importance of helping others.
"Everyone has a battle to fight. Our battles might be different – but our responses to what is around us helps us navigate that battle we may be facing."
Born in India, but growing up in New South Wales, Heather attended school by correspondence, spending lots of time writing and being encouraged to write by her teachers.
"I had a poem published in the Sunday Herald at 16 years old. I always loved English composition and writing."
At university she studied behavioral science, librarianship and theology.
At 25 she was a librarian, moving from Sydney where she was close to family to live independently in Canberra and work for the Australian Council for Rehabilitation of the Disabled.
'My family were very supportive and allowed me the freedom to live by myself in another state – that catapulted me into the big wide world!"
Her unique combination of personal experience and ministerial study led Heather to a career as an aged care chaplain in her 30's.
"It could be quite frenetic," she says.
"Every day is different, with new challenges. There is a similarity between getting older and disability, in the confrontation of limitation. Finding productive things to do has always helped me – I like to ask, 'what kind of person can I be to encourage the younger generation?'"
Though now formally retired from her chaplaincy career, Helen continues supporting aged care residents from her home at Bolton Clarke's Moreton Shores retirement village in Thornlands, visiting the co-located aged care community regularly.
"I'm an overachiever, even in retirement," she says with a smile. "Often I still have to decide 'what do I not do today!'"
"I love working with older people and being so close to the residential aged care community here has meant my ministry can continue."
She says the Moreton Shores community was an obvious choice for her Redlands retirement.
"I found it was more wheelchair accessible than most retirement villages. Some of them have too many steps or are too small to navigate."
Heather's second book, about grief and transformation, will be released later this year.
You can learn more about Heather and order a copy of her book on her website, https://heathercoombes.net/