Staying connected in the Inverpine community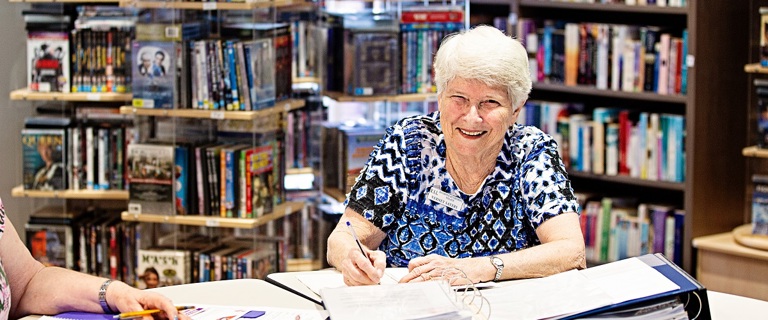 Maintaining strong connections and support is something that made Bolton Clarke Inverpine Retirement Village at Murrumba Downs an appealing option for Verney when she decided to downsize six years ago.
Now the chair of the village Residents' Committee and an active member of the book club, Verney says she loves being able to offer her skills to the community.
"I have been on other committees in my life – I like to get involved and help where possible," Verney said.
"I've been here at Inverpine for six years now and I've been on the committee for a few years.
"My husband, Richard, had retired so we had moved down here to Brisbane to be closer to family and he did some volunteer work in the residential aged care community here, which he thoroughly enjoyed."
Verney said it was that connection that helped her make the move when she found herself on her own after Richard's death in 2015.
"I didn't want to be on my own in a large house so the best thing for me to do was to downsize and come where there were people around.
"I like the security of having people around and feeling safer than in a big house on your own.
Now working on the committee, Verney is passionate about helping her fellow residents to create the lifestyle they want at Inverpine.
"As part of the Residents' Committee we advocate for all the residents and there are seven of us on the committee.
"We are just there for residents if they think there is something that could be better, and we try and get those things done.
"Whether that's more social activities, recycling within the village, more activities or the use of our village bus – so it's about just generally being there for the residents."
Retirement Living
A lifestyle you'll positively love
We're big believers in new beginnings. A new home, a new chapter, a new lease on life. We think that's the way your life in retirement should feel.
Located all the way from North Queensland down to Victoria, each community has care and connection at its heart, truly offering the space, security and support to focus on family and friendships.
Find a community