Retiree enjoys a healthy and active lifestyle at Baycrest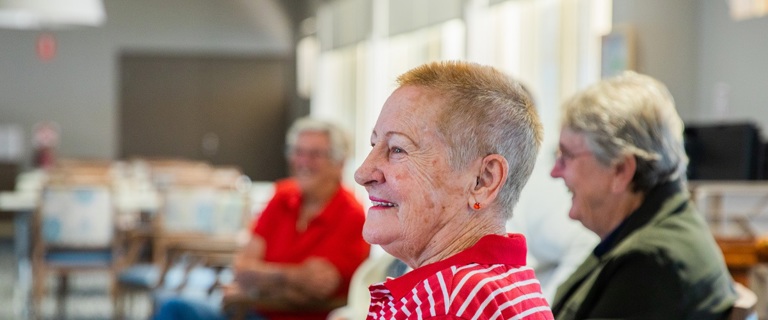 Bolton Clarke Baycrest Retirement Village resident Pamela, 81, often puts the pedal to the metal with a 10km bicycle ride as part of her regular exercise regime.
"We used to ride 40km and also did square dancing for 25 years," she says.
"I also go walking and swimming."
Pamela also recently attended Bolton Clarke's Be Healthy and Active: Healthy Eating and Nutrition session in Hervey Bay as part of her pursuit to maintain good health.
There, Bolton Clarke Chef Manager Joe Keen did a cooking demonstration on how to cook for one on a budget and taught about 10 attendees how to enjoy a healthy nutritional and tasty meal.
Pam says she was excited to learn cooking tips and tricks to dish up around the kitchen table and to revitalise her love of cooking.
"I learnt it's important to eat good amounts of vegetables, fruit and drink plenty of water," she says.
"We enjoyed some nice dishes on the day – one with mushrooms and another one with pasta – which were easy to cook up again at home.
"I go to the Be Healthy and Active seminars at the village regularly and find them very helpful. I've learnt quite a few things and I enjoy the social aspect."
Be Healthy and Active topics include CPR and defibrillation, falls prevention, first aid for seniors, healthy bladder, brain and body health, nutrition, skin health, mindfulness and understanding dementia.
Sessions are free for participants.
Retirement Living
A lifestyle you'll positively love
We're big believers in new beginnings. A new home, a new chapter, a new lease on life. We think that's the way your life in retirement should feel.
Located all the way from North Queensland down to Victoria, each community has care and connection at its heart, truly offering the space, security and support to focus on family and friendships.
Find a community