Teaching takes Sally from fashion to 'Frise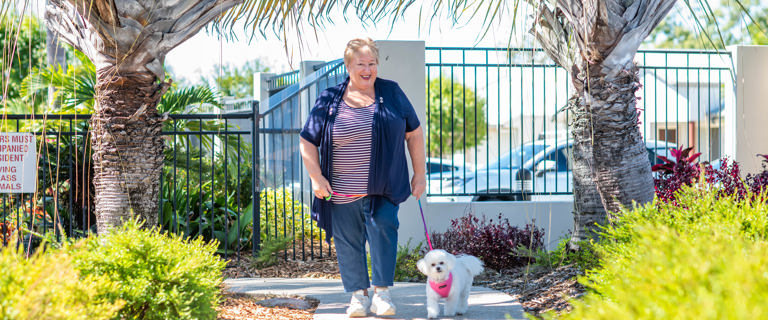 Former fashion teacher and Bolton Clarke Breezes retirement village resident Sally James has taken on a new student in her retirement - a nine-month-old Bichon Frise puppy, Keisha – and the pair are teaching each other some new tricks.
Sally has been enjoying her retirement at Breezes, Mackay since 2010, with Keisha joining the class in January.
"I lived on a farm down in New South Wales and we had lots of pets, but she's my first dog here in the village," said Sally.
"She's a great little companion - she sits by my feet a lot of the time and we go for a walk around the village at least once a day. She's a great support to me and helps me make friends and meet new people.
"Everyone in the village loves her – she's looking after everyone."
Sally says the company that Keisha provides, and the village community around her, make her feel right at home.
"You can't put a price on the friendships and the security," she said.
"When I first came to look at Breezes, I thought it was a lovely place. Then I walked out to the back patio and saw the 25m pool and thought, 'this is where I want to live.'
"When I walked into my unit I said, 'this is it' and I just knew.
"It felt like a nice resort!
"After I moved in, I worked for the first year, then retired."
Sally's fashion career has taken her around the world including teaching sewing in the Philippines as a volunteer with SewAid, supporting locals to find jobs in fashion and tourism. She recalls the experience as rewarding but challenging, with rolling afternoon blackouts often preventing the class from using the sewing machines.
"We'd have to change our plans very quickly in order to make the afternoon worthwhile – we'd switch from sewing practice to cutting out patterns instead."
Sally said travel is made easy knowing her home will be looked after.
"I can get a friend to come over and tend to the inside of the house if needed, and the maintenance and management takes care of the rest.
"The security makes you feel relaxed and I sleep soundly."
"Brad is a very attentive and excellent manager. The village is exceptional, the whole team does a great job."
"I think it's a wonderful place and more people should come and live here. There's plenty to do with the pool, darts, crafts, happy hour, market days and exercise classes.
"I love cooking and sharing food with others in the village.
"It's my home and I love it. I'm very happy here at Breezes."