Community a lifetime connection for local Centenarian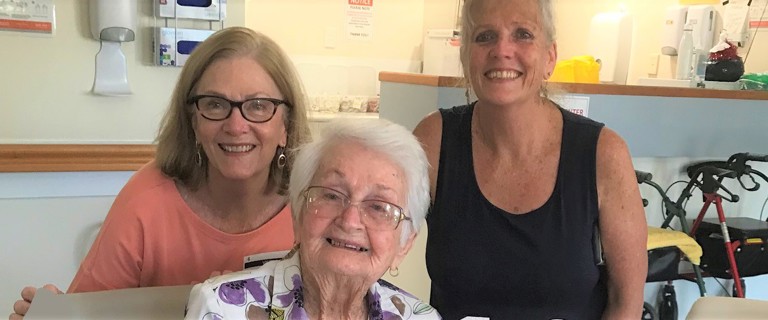 Community is key for Townsville local Minna Ede, who this week celebrated her 100th birthday at Bolton Clarke Rowes Bay.
The Centenarian has lived through two World Wars, the Great Depression and now a pandemic. Despite the adversity, she says the secret to living a long life is to find happiness in the people around you.
Annette, Minna's daughter, says her Mum has always helped other people, even while raising five children.
"When Mum left school, she worked for a couple of little local shops like Penny's, which was in Flinders Street. Then she met my Dad in her early 20's and became a Mum – she was kept busy with us kids," she said.
"But Mum always played such a big a part in the Townsville community. She volunteered through the Church, and the local Rotary Club. She also did Meals on Wheels for a long time,
"Mum was always very organised and threw a lot of parties. Our family is really part of the fabric of the Townsville community, with our family business being over 100 years old, so there's a lot of history there."
For Minna, her love of community continued to flourish when she and her husband sold the family home in Hermit Park and moved into the village at Rowes Bay, where they lived for 20 years.
"That move was the best thing for them, they got there and finally relaxed," Annette said.
"They started looking after the pool and Mum got involved in line dancing, tai-chi, she did a lot of good stuff there."
Minna stayed living independently for a few years after the passing of her husband. For the last seven years she has lived in Bolton Clarke's co-located Rowes Bay residential aged care facility.
Annette says this move has been important in reconnecting Minna to her beloved community and social activities. After all, she has been an integral member of the Bolton Clarke Rowes Bay community for nearly 30 years!
"There have been some really hard times for Mum recently, losing some of her kids and her partner, so it's nice that she is social again.
"She is really engaging in the activities and community around her."
Minna's family credit her long life to her focus on health; she was always mindful with food, and an incredible cook, with a keen interest in Macrobiotics. Annette also says that her Mum loved to do Yoga.
"She did Yoga for about 25 years, she was so involved in it. You could probably still get her to do a downward dog!" she laughed.
Although Minna's memory is fading, she is still a wealth of knowledge on the Townsville community that she grew up in. After moving from Georgetown, North Queensland, with her family when she was a toddler Minna has never lived anywhere else.
She grew up in Railway Estate, in a house in First Street, learning how to swim in Ross Creek.
"Of course, now, you wouldn't swim in it at all because there are crocodiles and sharks. But back in the day, her Dad would throw her and her four siblings in there, and that's how they learnt to swim!" Annette laughed.
Minna celebrated her birthday with staff, friends, and family at the Rowes Bay residential aged care community before a second celebration with family on the weekend.