Local artist thrives at Moreton Shores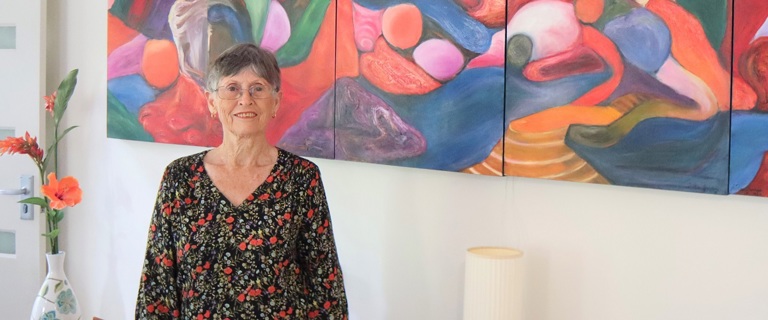 Thornlands artist Frances is making her mark at Bolton Clarke's Moreton Shores retirement village, inspiring fellow residents to pick up a brush.
For Frances, art has always been a passion but wasn't something she pursued until later in life when she made the leap and changed her career.
"As a kid, I used to love painting but had no opportunity - I really wanted to go to art college when I left school but that wasn't an option, so I decided on nursing," she said.
"I raised my three kids and then when they were leaving the nest, I went to do my Bachelor of Arts at the Queensland College of Art for three years and absolutely loved it."
After embarking on what started as a part-time hobby with a friend in an old barn in Thornlands, Frances was inspired by her teacher Robert Barnes to look further afield, studying art therapy in her 50s.
"My journey with painting started many years ago when Yurarra was set up in a little old barn on a property in Thornlands," she said.
"When Robert Barnes took over from The Art College, we could not get there quick enough each week to see what challenge he would bring to us that day. In six weeks, he had us painting portraits that were incredible pieces of work."
Frances began her work in art therapy and volunteered at various correctional and rehabilitation centres, working closely with offenders.
"It was very rewarding to watch the evolution of the participants throughout the course," she said.
"The imagery that used to come out in their work, for them it was incredibly helpful because it helped them have break-throughs in their treatment."
Now living at Moreton Shores, Frances steps fellow village residents through understanding art to explore their skills every Friday morning while spending more time on her own projects.
"Some of them have never painted before in their life, so it's a matter of educating them and getting them to understand how to use colour and what colour is all about," she said.
"To me, it's all about therapy for people. It gives them a safe space to switch off and they are completely oblivious to all their worries.
"It's letting them do what makes them feel good and exploring the skill, creating what it is they want to express."
Life in the village also allows Frances and her husband David more chances to enjoy travelling around the country in their caravan. Frances says that the Australian landscape has always been a source of great inspiration for her artwork.
"Every place has its own unique beauty. I have always loved the Australian landscape, the water, oceans, lakes, rivers, waterfalls, forests, mountainous terrains and deserts.
"We have an incredible countryside which my husband and I have been travelling around for the last nine years. To me, the landscape is a living spirit that speaks to you when you stop long enough to listen."
Frances is entering her latest portrait of Johnathon Thurston and David Gulpilil called 'Master Kurdaitcha' into the Redland's Art Exhibition, held at the Art Gallery in Council Chambers.
"It's a double portrait of both of them. When I did research on Aboriginal culture and beliefs, their medicine men are believed to have spiritual or magical powers," she said.
"David Gulpilil played that role in the movie 'Australia' and to me, Johnathon Thurston has always had that magical quality about him on the field. They both also were and are mentors to aboriginal youth."