Baycrest residents celebrate being a senior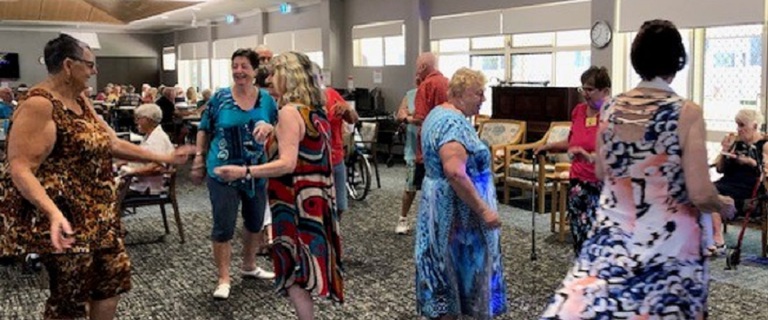 Bolton Clarke Baycrest residents celebrated the conclusion of Seniors Month in style last week, with 152 residents and visitors gathering to celebrate what it means to 'love where you live'.
After a barbecue lunch cooked by the maintenance staff, a DJ got the crowd up and dancing. When it was time to cool off Mr Whippy arrived and handed out 141 ice creams.
Village Manager Sally Zentveld said everyone rolled out of Baycrest very happy after their afternoon of celebrations.
"I have never seen such a long line of people waiting for ice-cream before and no one left disappointed," she laughed.
"There were lots of requests to our DJ Jarred, so the crowd never stopped dancing, and after that the coffee van came to top off a fantastic afternoon."
Residents, many of whom have called the Fraser Coast home for many years, thoroughly enjoyed the day with lots of positive feedback shared. Resident Sally shared how the community has evolved since she moved in to Baycrest in May.
"I've called Hervey Bay home on and off for about 21 years and I love it. I love the community, I love the stuff we do around here," she said.
"Residents here vary from their late 70's, 80's, 90's and even 100 and they are all here celebrating."
Resident Pauline echoed the sentiment, saying she considers living in Hervey Bay paradise.
"I have lived at Baycrest for four and a half years, but I have lived on the Fraser Coast for 20 years," she said.
"There is so much worth celebrating at this time of our life – retirement is wonderful, I'm very busy and active and I have a great community here, everyone is friendly and you're never alone there's always events to go to."
Seniors month
October 2023
It's a month of celebrations for seniors starting with International Day of the Older Person on 1 October and ending with National Grandparents Day on 29 October.
Catch up on the latest inspiring stories and find out about events near you.
Learn more