Retirement village residents fighting the cost of living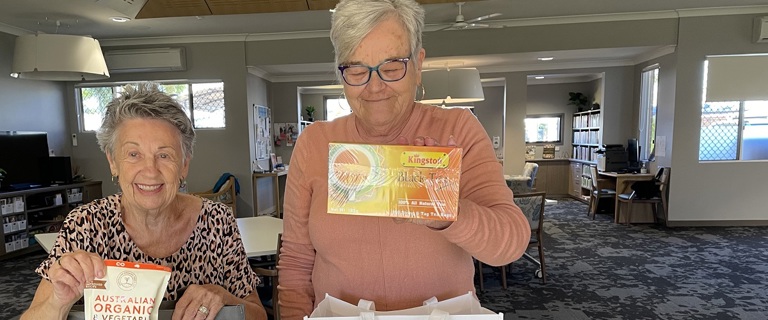 Bolton Clarke Fairways retirement village residents have come together to help each other beat the rising cost of living in Bundaberg with their own community food bank.
From an off-the-cuff conversation, Fairways Retirement Village Manager Shari says residents came up with the idea to give back and share their resources among the village.
"We had our social club meeting and one of the residents mentioned doing a foodbank and now not a day has passed that we haven't received some form of donation from a resident, family member or friend," Shari says.
"We put a call out to the residents, for anyone who feels they are able to, to just buy one item during their grocery shop each week for us to put a few bags together.
"We also have a lot of residents with family members who farm, so they will come around and leave a big bag fruit and veg in the community hall for residents to come and grab what they want.
"We want to keep it going so that there is a constant trickle to give a helping hand during this time."
Fairways resident and social club member Gae says the initiative has taken off with residents regularly donating items and has brought a strong sense of support to the village.
"It's gotten harder for everyone with the cost of living going through the roof, so we asked for donations and were overwhelmed with what we got," Gae said.
"We started with tinned foods and now we are focusing on household items and have been putting those into packages.
"I volunteer once a week at the food bank in Bundaberg and I'll collect left-over fresh food the supermarkets have to get rid of but that is still good to eat, like bread or cake.
"My stepdaughter also had too many mandarins on her tree, so we popped some down at the community hall for anyone to take as they please.
"Everything is tough now, no one is going out as much and that's why this food bank is so important."
Retirement Living
A lifestyle you'll positively love
We're big believers in new beginnings. A new home, a new chapter, a new lease on life. We think that's the way your life in retirement should feel.
Located all the way from North Queensland down to Victoria, each community has care and connection at its heart, truly offering the space, security and support to focus on family and friendships.
Find a community