Galleon Gardens retirement village says hello to a fresh community hall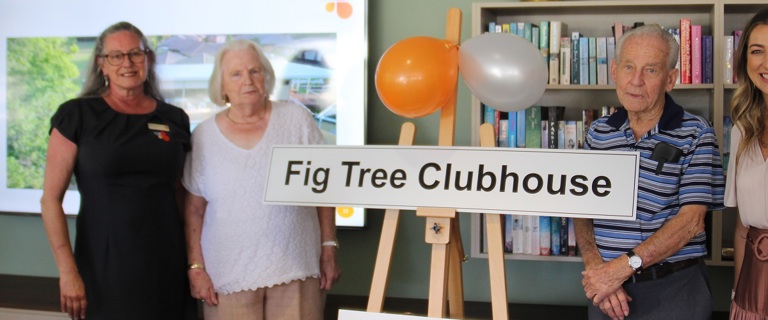 Residents at Bolton Clarke's Galleon Gardens Retirement Village are wasting no time filling the calendar at their new community hall.
The official opening Fig Tree Community Hall was marked with residents, staff, builders and the local member for Currumbin Laura Gerber.
Long-time resident, Mary says it's been fantastic to see the transformation of the village since she moved in over 20 years ago.
"My husband and I chose Galleon Gardens because he needed the support and it was such a beautiful and welcoming community," Mary said.
"I have been here for roughly 24 years - now I'm 93 and still love living here.
"There have been many changes I have seen over the years here - it's been great, and this is just another one to add to the list," she said.
The space features a variety modern aged care solutions including age-friendly furniture, state of the art audio visual equipment with hearing augmentation, energy efficient fixtures and fittings, and solar heating in the pool for aqua aerobics and therapy programs.
Now setting an example for further community halls across Bolton Clarke retirement villages, the space is a benchmark to create inclusive and flexible space within our communities.
Galleon Gardens Retirement Village Manager, Andrea says it will be used for a variety of activities.
"The residents have been eagerly awaiting to get their activities underway, whether that's physical or social," Andrea said.
"The old building we used was outdated for the residents who wanted a fresh space to come together to keep the village community spirit alive and happening.
"Residents helped us decide on the name and it's a testament to the beautiful fig tree that overhangs the pool area and our natural surroundings," she said.
Retirement Living
A lifestyle you'll positively love
We're big believers in new beginnings. A new home, a new chapter, a new lease on life. We think that's the way your life in retirement should feel.
Located all the way from North Queensland down to Victoria, each community has care and connection at its heart, truly offering the space, security and support to focus on family and friendships.
Find a community