A place to settle down at Carrington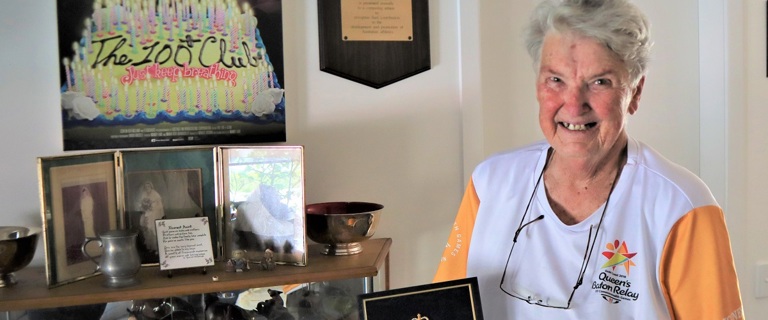 After a lifetime of travel, Ex-Olympian and Bolton Clarke Carrington Retirement Village resident Helen Searle has finally found a place to settle down.
Helen competed in the 1960 and 1964 Olympics representing Australia in long jump, high jump and pentathlon. Her Mum, the famous Ruth Frith, holds the title as the oldest active athlete, competing in the Australian Masters Games until she was 100.
Following in her mother's footsteps, Helen continues to lead a very active lifestyle in her 80s.
"My motto is if you don't use it you lose it!" she says.
"I do personal training three times a week - Tuesday, Thursday and Friday – and on one of those days we go to the park out the back of the Village, which is named after my Mum."
Helen and her Mum shared a house at Algester until Ruth passed away aged 104.
"After Mum died it got a bit lonely in the house. I already had friends that lived in the Carrington Retirement Village so I thought I would come up here, too," she says.
"The village is fantastic. It's a great community atmosphere and everyone looks after each other but they don't live in each other's pockets. It's a good balance."
As Helen settles herself and her rescue dog and cat into their new life in the Village, she is happy to be in the home where she plans to stay.
"We moved around a lot when I was younger because of Dad's work. I went to 11 different schools as I grew up and spent a lot of time in Darwin and Sydney.
"I don't have too many close friends because I was always wary to get too close to people in case we had to move again. Now I've found somewhere I want to stay until I'm Mum's age!"
For people looking at moving into a retirement village, Helen says the best way to decide whether it's the right move is to come and have a look!
"If you want to live somewhere where people are friendly, you can bring your animals and you feel safe and secure – this is the place to retire," she says.
Discover affordable retirement living
Get a free affordability report
Book a tour at any of our retirement living communities and you'll have the opportunity to sit down and chat with one of our friendly consultants. They'll provide a comparison report based on estimates of your current cost of living with the cost of living in a Bolton Clarke community - the results may surprise you!
Find out more