Aged care provider rallies support for local Victorian family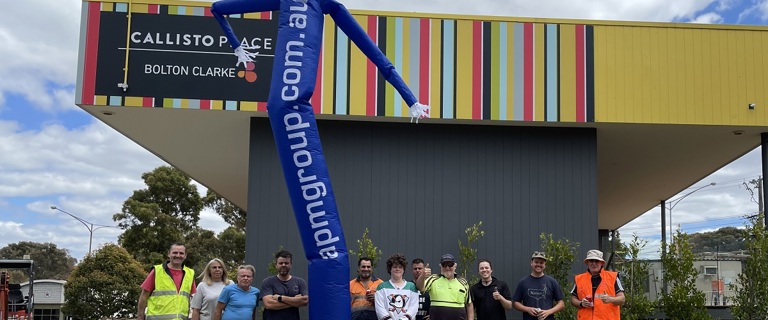 Over the weekend staff from Bolton Clarke and APM Group lent a helping hand for a great cause as they landscaped the display unit for the Callisto Place retirement village which will open next year.
Bolton Clarke is contributing to APM Group's cause to raise funds for their long-term colleague and his son Jax, who has a severe form of epilepsy called West Syndrome.
Bolton Clarke Development Manager James says the unique work will not only bring value to Jax and his family but will also provide Callisto Place with a great outlook.
"This is a fantastic project as the team from APM Group donate their time and skills on rostered days off or over weekends to do the work that goes towards the fund," James said.
"We will be donating $15,000 towards the cause and this will see some fantastic landscape work going in at our Callisto Place community.
"We are excited to jump on board such a unique and meaningful project that we will be able to cherish while providing some support to Jax and his family," he said.
APM Group Joint Managing Director, Matthew, says it's a project that is creating a great outcome for such an important cause.
"I am excited about this plan and it's one that wouldn't be possible without the cooperation of Bolton Clarke," Matthew said.
"My thought was a team building exercise to expand this to the landscaping works for the display suite at Callisto Place.
"It has made a difference to the family's lives and how our team works together all while raising over $60,000 for Jax's care," he said.
Future developments
Introducing our newest retirement and residential aged care developments
Offering the best in contemporary living, each of our future community developments foster a connected social lifestyle, with a host of outstanding facilities and shared spaces designed to enhance your health and happiness.
Learn more