Retirement makes way for new hobbies at Westhaven!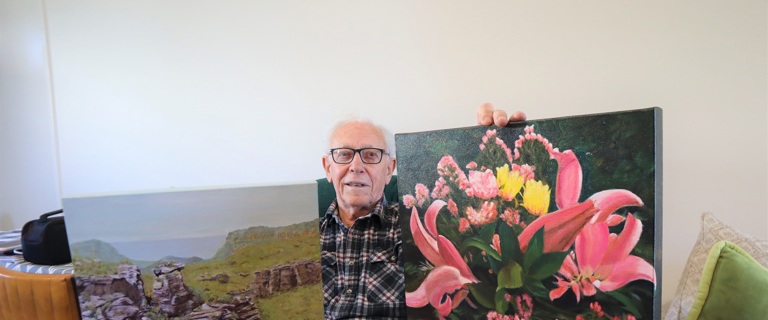 Retirement living at Bolton Clarke's Westhaven Village has given 88-year-old Neville Brown a whole new lease on life.
Neville moved to Toowoomba 40 years ago, working as a house painter and wallpaper hanger. For the last 20 years, he lived in a granny flat on a friend's property but he knew that, in time, he would have to find something else.
"I phoned Westhaven and Vanessa, the Village Manager invited me to come out for a meeting. At the time I couldn't afford to buy but Vanessa was able to discuss other options with me and helped me to work out my finances," he says.
"The unit she showed me was so beautiful, it was like palace! It had been refurbished, had a garage and it was just heaven.
"I signed up on a Flexible Payment Contract and started the big move."
Neville says the 15 months he has lived in the Westhaven Retirement Village have been wonderful.
"It was a little bit strange in the beginning - it felt so beautiful, and I didn't know that I deserved all of this," he said.
"The best part is the grounds - the lawns, hedges and gardens are amazing. And I have a lovely neighbour, there are beautiful people all around me."
Neville has never been one to shy away from new hobbies. In 1983, when he was 49, he took up ice skating at the old skating rink and he took up horse riding in his 50s.
Now that he has settled into his new home, he has found a new hobby to pursue – visual art. Having been a part of the Toowoomba Art Society for eight years, he now has more time to dedicate to his painting.
"I have found I have a hidden talent! My artwork is praised by other people and I look at it and think, how did I do that?"
"In my free time I also enjoy playing eight ball in the community hall, going to morning teas, concerts, movie nights and on beautiful bus trips to different places."
This socialisation has made a world of difference to Neville's mindset.
"Living in the granny flat, I was pretty isolated, and I didn't realise the effect it was having on me at the time. Since being here, meeting with other people has really changed me, it's amazing."
"And I can't praise the team here enough. Vanessa, the Village Manager, is such a lovely person. Her and Lorraine, the administration officer, are such a great pair. They work so well together and they really look after us."
Tags: Retirement Village | Westhaven | Painting | Hobbies