Wedding bells are ringing at Baycrest retirement village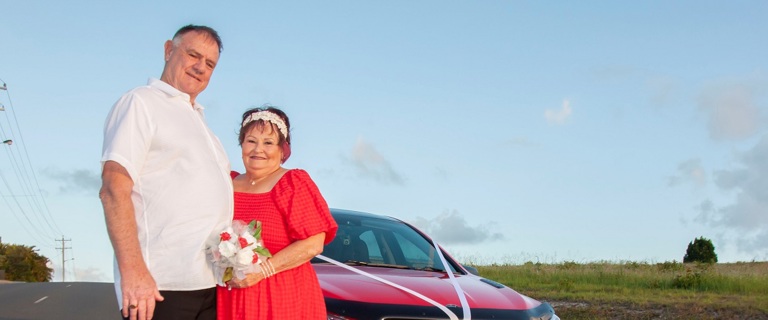 Over 50 years apart didn't change the love Bolton Clarke Baycrest retirement village residents Bob and Annette have always had for one another.
Finally tying the knot on Wednesday 28 December, Annie and Bob will be joined today by their fellow residents at the Baycrest retirement village hall to seal the deal.
"We were always in love and once we reconnected three years ago, he travelled over 1000 kilometers to get to me and everything was the same as it was 50-odd years ago," Annie said.
"I do wonder what would have happened if we had gotten together all those years ago but anyway we are together now and we will live out the rest of our lives happy.
"My dream is going to come true because I am going to be Mrs Crothers and that's all I've ever wanted to be after all these years," she said.
After meeting at a dance when Annie was 15 and Bob was 17, it was love at first sight.
"Being so young, he went back to Queensland and I stayed where I was in Junee because I was too young and mum and dad wouldn't have let me go anywhere.
"I never got over him and he never forgot me.
"He reached out to me a couple of times over those 50 years but I needed to raise my children and I didn't have time for love."
After reconnecting through an old friend three-years ago, Bob wasn't going to take his chances this time and popped the questions right away.
"We were out the front of my hairdresser, mind you I was in Wagga for 30 years so everyone knew me, and I knew everyone and here Bob was on one knee in the carpark of the shopping centre.
"All the girls were hanging out the hairdressers watching and he even had my dog, Elvis, with him."
After three years together and just over two years at Baycrest retirement village, Annie and Bob decided to tie the knot in the place they love the most – their home.
"The noticeboard had written on it 'Baycrest Wedding, Wednesday 28th December at 5pm all welcome and enjoy the cake'!"
Retirement Living
A lifestyle you'll positively love
We're big believers in new beginnings. A new home, a new chapter, a new lease on life. We think that's the way your life in retirement should feel.
Located all the way from North Queensland down to Victoria, each community has care and connection at its heart, truly offering the space, security and support to focus on family and friendships.
Find a community