Village life's the cup of tea for Helen and Pauline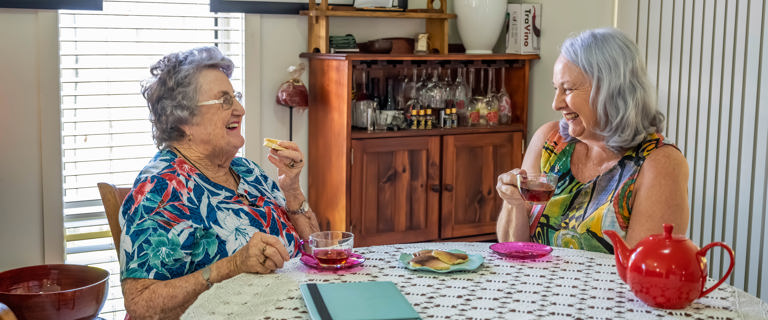 It's clear that mother and daughter Pauline Pavlich and Helen Howarth share a close bond. But not only are they close at heart, but close to hand too, both living in their own units at Bolton Clarke's Breezes retirement village in Mackay.
Helen was the first to move in with husband Doug in 2010, and they loved it so much they encouraged Pauline to do the same in 2018, relocating from her home in Broken Hill, New South Wales.
"After Doug and I looked at Breezes, we didn't bother looking anywhere else. It was easy to make a decision and encourage mum to do the same."
Helen says it's been a blessing to live close by, but not in each other's pockets.
"Mum is five minutes away so it's easy to pop over," she said.
"She still has her independence and we've each still got our privacy, but we can share time easily and have a cuppa or a meal."
"I'm also there if she needs a hand with the shopping."
Pauline also receives support from Bolton Clarkes' at home support team.
"Mum has had a cleaner come once a week since she moved in. That's been helpful too."
Helen says it's been a blessing that her mother moved before the pandemic.
"We wouldn't have been able to get down to Broken Hill if she'd still been there – so we just wouldn't have seen her.
"We didn't have to worry or stress."
Helen says the whole family loves the community feel the village provides and making the move from the small mining town of Tieri to Mackay was an easy transition.
"I came from a small community and this is like a small community. We're all very close-knit and there's a few people without immediate wider family around, so the Breezes community becomes like family too."
Pauline agrees and says that Village Manager Brad Witt and Sales Consultant Jules Tulloch are very supportive.
"Everyone knows each other and can help each other," Pauline said. "Brad and Jules are so involved and really a part of the community."
They both love the active life the village affords and can be as involved as they like.
"I'm the social butterfly," Helen said. "I'm part of the social club and help run happy hour and events.
"We also have exercise classes, chi-ball, tai chi and gymnastics.
"Mum likes to go to the movies with her neighbours and enjoys the themed events too.
"It's really good to have all that community involvement and support."