At Inverpine, new friends are just around the corner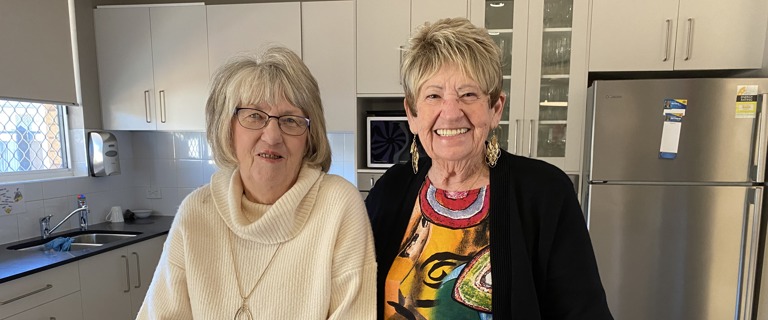 Jan Dale and Christine Magee are proving that at any age, new friendships can be just around the corner.
The fast friends met when Jan moved to Bolton Clarke's Inverpine retirement village last November. They quickly bonded over their shared life experiences, and sharp, witty sense of humour.
"We didn't know each other prior, but we feel like we've known each other a lifetime!" says Jan. "We've got lots in common, including the same sense of humour and sarcasm, and we've both lost our husbands."
"I'd been going a little spare at home by myself but now I'm always having fun with others.
"Moving to Inverpine was the best decision I've ever made."
Christine says the friendship grew organically and they've now got a group of four in their 'lunch club.'
"We like going out and getting about for some shopping or lunch or both. We also play cards most Saturdays."
Christine said moving to Inverpine was a natural choice for her nearly three years ago.
"I worked and volunteered in the aged care community for 10 years. The friendliness of everyone and the freedom I have here is great.
"I can do what I want when I want. I'm not answering to anybody but myself, and there's plenty to do."
Christine keeps actively involved with village life and encouraged Jan to join the social club with her.
"We're planning functions for the next year and the next BBQ we're having."
Jan says the process of moving in was made easy with support from Sales Consultant Margaret Silver and Village Manager Scott Noble.
"The last unit Margaret showed me ended up being the one. As soon as I walked in, I knew I had to have it! Margaret asked if I wanted to think it over, but I knew it would be mine, it just appealed to me.
"Everything is well laid out and there's no steps anywhere either.
"I had to be out of my house quickly and Margaret and Scott really supported me to make the change and move in.
"The maintenance team is great too – not having to look after the yard is really nice. And if I go away, I don't have to worry about my house, someone will keep an eye on it and they'll water the garden for me, too."
"I feel really safe and at home."
Image details: Fast friends Christine Magee and Jan Dale have bonded over their shared sense of humour and supporting the Inverpine social club together.
Tags: friendships | social club