The right move at the right time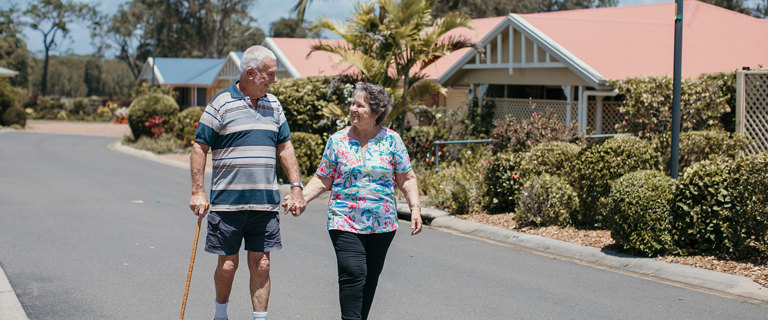 David and Elaine Sollars are grateful to have found their haven when they moved to Bolton Clarke's Baycrest retirement village in February of last year.
They were initially nervous about making a change in their eighties but with some encouragement from friends they made the move.
"Our friends brought us to Baycrest," said David.
"We selected a unit and are over the moon with our choice – we could not wish for better managers."
David and Elaine say they've felt safer than ever and especially during what has been a challenging year for us all.
"Sally and her team are not only professionals at running the village on a day-to-day basis but have excelled themselves in handling the challenges that COVID-19 thrust upon us," he said.
"They introduced guidelines to be adhered to for everyone's health and wellbeing and for this we truly thank them."
Feeling well-supported was high on the list for them when making the move into the village and in addition to the health support, they've been very pleased with the maintenance too.
"Greg and his maintenance team always attend to our requests promptly and efficiently, and the gardens are always neat and tidy," he said.
Village life brings many opportunities for socialising and activities of which David and Elaine are active participants.
"We love the activities," said Elaine. "We can never complain of being bored or having nothing to do!"
They also love that transport is provided down to the local shopping centre.
"We can easily get down the road to the shops on the village bus, which is really helpful," she said.
"The only regret we have is that we didn't move here sooner!" said David.
"We are very happy here and we would not hesitate to recommend the village to anyone considering retirement."