Water smart smiles for retirement village residents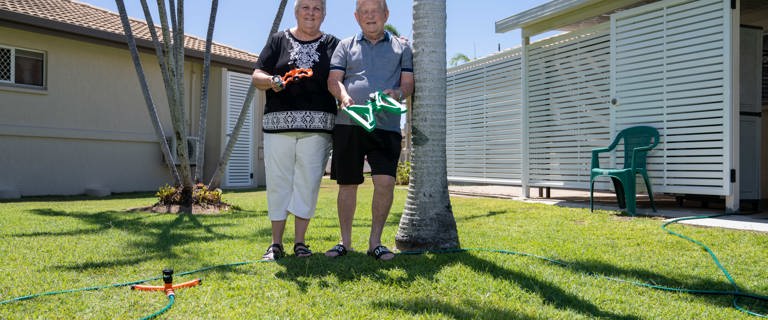 Residents of Bolton Clarke's Rowes Bay retirement village in Townsville have been the happy recipients of some water smart products from Townsville City Council. The roll out has been a great success, putting smiles on residents' faces and encouraging physical activity in the gardens, proving that sometimes the grass is greener on the other side.
Among the items donated to the village were 300 plants, 20 cubic square metres of mulch, half a pallet of fertiliser, two large compost bins for the village's vegetable garden and a tap timer and water smart sprinkler for each of the villages 145 units.
Rowes Bay residents John and Julie Storrie were among the first of the residents to try out their bundle of water smart products – and the results speak for themselves.
"We can't believe how green the place is!" said Julie. "It all looks marvelous!"
"You could see a difference even in the matter of a week, the green was coming through from having the (sprinkler) sprays.
"Being water smart, we think about it a lot – especially if you have grandchildren saying to you 'grandma, don't use the water too much!' The kids are learning it so I think the older people can learn it too!"
Julie's husband John said the results were easy to spot.
"I can see who's been using it – some of us are even getting up early in the morning, before the cut off time at 8," he said.
Bolton Clarke Retirement Village Manager Stephen Pether said that the initiative had really put a spring in the residents' step.
"After delivering all the sprinklers and fertilisers, the next day we had sprinklers going everywhere! They love it," he said.
"Now we're looking around and instead of brown grass, seeing green grass and flowers."
Bringing greenery back into the lives of residents has extra benefits beyond looking beautiful, including additional physical activity due to increased need and desire to do the gardening, and a mental health boost from the additional green space.
"After the effects of the drought we've been experiencing, this just lifts the spirits of the whole village, it makes everyone happy. Seeing a smile on all of the resident's faces is fantastic," he said.
"And it will be even better once we get rain!" said Julie.