Baycrest resident's 100 years of memorable moments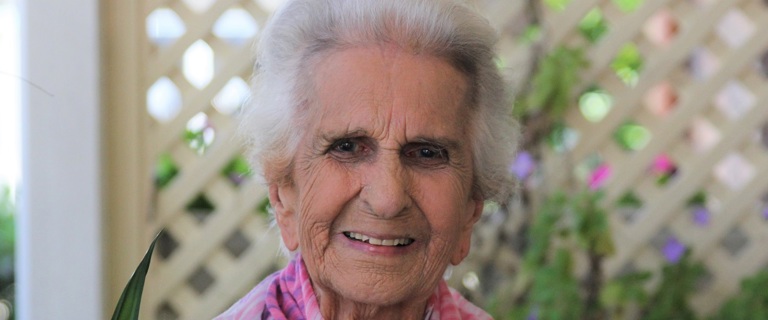 From mistakenly signing up to become a nurse and being caught in a rowboat in an ocean whirlpool to experiencing Cyclone Tracy in 1974 – it's safe to say Bolton Clarke Baycrest resident Dorothy's century has been anything but dull.
"I'd wanted to be a nurse since I was a little girl, so I signed up when I was 18 and went to the Lister Hospital in Mackay," Dorothy said.
"Up until then the third operation I saw I was quite good, but this time the doctor was operating on a stomach. I thought 'I'm starting to feel sick' so I got myself out of there and I decided I didn't want to be a nurse and changed my mind completely!"
After changing her career path, raising her four children and caring for her husband Edward for many years, Dorothy made the move to Darwin on her own.
"When I was widowed, the government sent me to relearn office work and that's what I did until I was 60 and started travelling on my own.
"The office I worked in at Darwin was having Christmas parties at the time in the city – we didn't take much notice of the cyclone warnings because nothing had come of them the week before.
"When I got home and went to sleep, I was woken up to the sound of rain and when I got up, I was standing in water."
The night Cyclone Tracy hit, Dorothy was in her studio apartment, which was three floors up, taking shelter under her mattress.
"It was one o'clock when it really started to blow – the roof was tin and it rolled right back and the roar of it, I can still hear it now!
"When daylight came, there were no walls, no ceiling, I had been blown metres across my apartment into the kitchen and the mattress had blown away!"
She managed to get out of Darwin and travel down to Brisbane in a cargo plane the following week.
"When we landed they rang my family to let them know we had arrived in Brisbane. They gave us a cup of tea, a few sandwiches and $40 – but I was one of the lucky ones because I got out."
Dorothy eventually followed one of her daughters to Hervey Bay where she now resides at Baycrest Retirement Village with family all over Australia to keep up with including six grandchildren, 11 great grandchildren and three great, great grandchildren.
"I didn't think I would be here for this long – I have been here for six years now.
"I am so happy here because I can do what I want, when I want," she said.
Dorothy's 100th birthday was marked with a tree planting ceremony with the Fraser Coast Council and an afternoon tea with her family and friends.
Retirement Living
A lifestyle you'll positively love
We're big believers in new beginnings. A new home, a new chapter, a new lease on life. We think that's the way your life in retirement should feel.
Located all the way from North Queensland down to Victoria, each community has care and connection at its heart, truly offering the space, security and support to focus on family and friendships.
Find a community