The best of both worlds for Margaret and John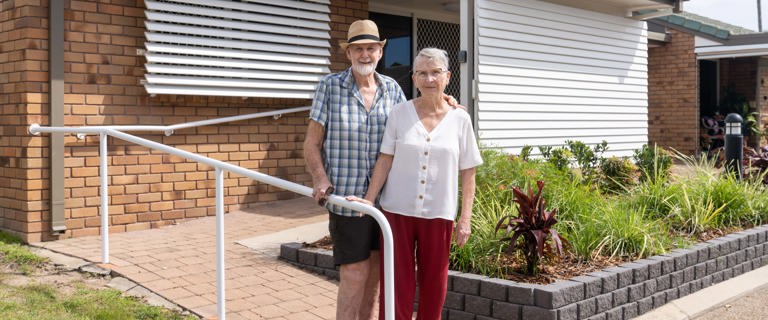 For Margaret and John Hetherington, moving to Bolton Clarke's Rowes Bay retirement village has given them a lifestyle with the best of both worlds.
Due to his health, John prefers a more relaxed approach to his retirement while Margaret enjoys the outdoors and keeping active in the village gym.
The pair downsized from their three and a half acres of family property at Kelso to the next phase of their retirement in December 2020 – and have loved every minute since.
"We were already retired but it was getting more difficult to maintain such a large property," said Margaret.
She says finding the right place for their new home was very important.
"We didn't want to feel land-locked. We wanted openness and space and I like to be by the beach and by the water.
"I love being able to go for walks along the beach and have a swim."
Margaret has even able to keep up her fitness regime during wet weather, making use of the village's on-site gym.
"I've been using the gym on rainy days and doing my walk on the treadmill. It's great that I don't have to skip it!"
She says their transition was made easy with the warm welcome they received and the help of Village Manager Stephen Pether and the maintenance team.
"Everyone we've met so far has been very welcoming. We've met lots of lovely people at happy hour.
"Stephen has been very helpful and friendly – anything we've needed to check or ask him he's been right on top of.
"He knew we wanted space and he made sure to offer us a unit right at the front with a large backyard near the pool. We couldn't say no!"
They've also been very impressed with Maintenance Officer Anthony Byrnes.
"He replaced our bathroom vanity for us along with a few other jobs including a little bit of painting. He came in and out many times to make sure he matched the paint colour perfectly!
"We've been very well looked after."
Their new home even has the seal of approval from their grandkids, five-year-old twin girls.
"They've come for two sleepovers already and we've taken them down to the playground. One of the girls was so excited she had her bag packed hours in advance!"
Tags: moving | grandkids | wellbeing | best of both worlds