Former Maryborough nurse keeps close ties to nursing community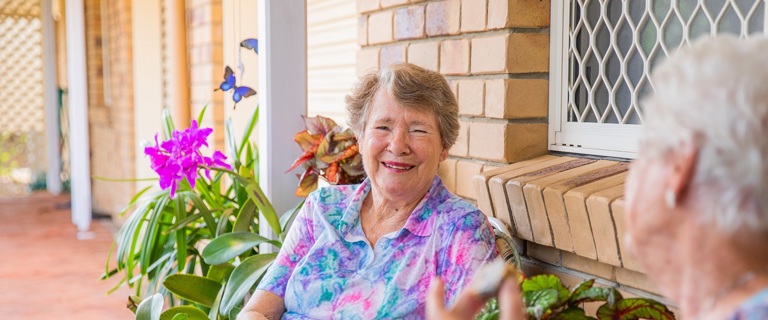 From the outback to the operating table, Bolton Clarke Chelsea retirement village resident Olwen spent her nursing career giving back to the Maryborough community.
Olwen made the big move in the late 1950s to study nursing at the Maryborough Base Hospital and would continue her work within the community for more than four decades, retiring in 1995.
"I wanted to train in Sydney but I wasn't allowed to by my parents so I came to Maryborough because I had a sister living at Hervey Bay – I had very protective parents I might add," Olwen said.
"I came from a farm in Tenterfield and apparently the doctors liked to employ people who had worked on farms because they were more practical, or so we were told.
"It was very military-like, we lived at the quarters, we couldn't wear our uniforms once we were off duty and our rooms had to be tidy.
"They used to do the rounds and I remember being told my room was untidy by the Matron and so I always had a tidy room after that," she said.
After her studies were complete, Olwen knew theatre surgery was the place for her and eventually worked for the Government Medical Officer.
"That was my most interesting job because there weren't any policewomen in Maryborough in the 60s so I used to have to stand in for cases involving assault on women.
"For about two years I did that until they brought in policewomen, you just had to be compassionate.
"I love people and have always been one to listen – I would choose nursing all over again if I had to."
This Friday 12th May is International Nurses Day and celebrates all the wonderful work our nurses do in our community.
"Having been to a nurse reunion for Maryborough Base Hospital, you should have seen the reactions of people who hadn't seen each other for years.
"I think that's why it's important to continue our friendship and share the interesting stories that happened to us over the years.
"It's about a sense of community and respect for nurses. We are proud of what we did and tried to do the best we could," Olwen said.
Retirement Living
A lifestyle you'll positively love
We're big believers in new beginnings. A new home, a new chapter, a new lease on life. We think that's the way your life in retirement should feel.
Located all the way from North Queensland down to Victoria, each community has care and connection at its heart, truly offering the space, security and support to focus on family and friendships.
Find a community