Digital pendant drives freedom, independence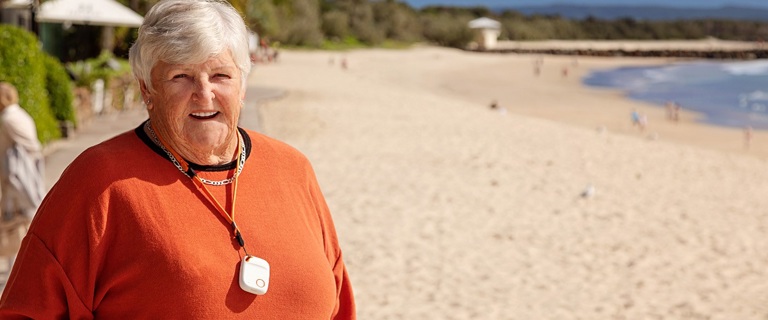 For Noosa retiree Jean, the Bolton Clarke InTouch Go! digital independence system allows her to continue enjoying an active and social beachside lifestyle with the added security of knowing help is there when she needs it.
Jean lived in Melbourne and was a personal assistant in the office of the CEO of a multi-national company, where she worked for 32 years. When she and her husband retired, they bought a caravan and would spend the winter months up at sunny Noosa.
"We loved it up here, my husband was pushing for about three years to come and live up here full time," Jean said.
"I was weakening in my resolve against coming up and mentioned it to my family. My daughter said if you're going up there, so will we!"
When Jean's husband passed away 13 years ago, it was the support of her family and the Bolton Clarke At Home Support team that helped her. Through At Home Support, Jean has her gardening and cleaning done, plus the team have been able to install extra measures to make her feel secure.
"When you've been with someone for so long, you prop one another up. But even being on my own, I still feel like I have that same support because I can get contact with someone very easily."
"Now I have the alarms and sensors throughout my house. I also have the small in-house buzzer which has been brilliant as well as recently receiving the new InTouch Go!"
The square pendant is about 2 inches by 1.5 inches wide and takes the shape of a little white box.
"You don't even notice it around your neck. I can press the SOS alarm, it has GPS in it and they answer me immediately," she said.
"They can tell me where I am, if I'm at the library, the shopping centre, if I'm in a particular shop. I find it great, and I can't understand why more people aren't using them! It gives you so much more confidence.
Having peace of mind while I go about my daily activities makes such a big difference. If you need help it's there, you have freedom to move about without fear.
"I like to be independent and with the InTouch Go! you don't have to think twice."
Bolton Clarke InTouch GO
Peace of mind wherever you go
Bolton Clarke InTouch GO provides emergency assistance at the press of a button, even when you are away from your home.
Equipped with GPS technology, this pendant is simple to use. The SOS button makes it easy to call for help, sending your location to our 24/7 emergency response centre that will respond wherever you are.
LEARN MORE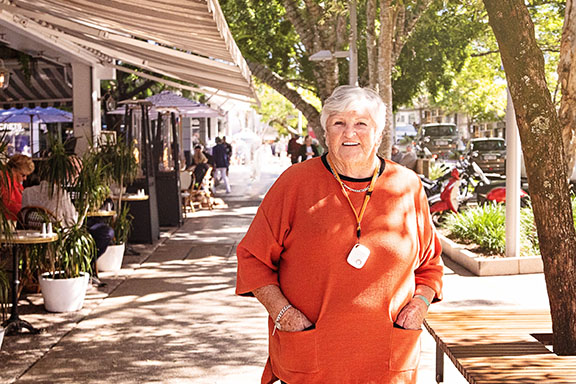 Tags: InTouchGo! | Independence | Freedom