Trishaw service brings joy of cycling to aged care residents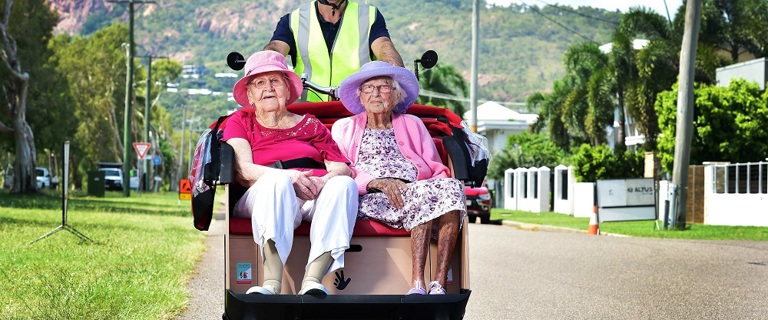 A global cycling movement aimed at giving aged care residents the chance to enjoy cycling in the outdoors and meet new people has officially launched at Bolton Clarke's Rowes Bay community in Townsville this week, with residents Joyce Bradley (102) and Violet Dirksen (100) having the first ride.
Cycling Without Age started in Denmark to help older people get out and about while combating loneliness and social isolation, providing opportunities to interact with local communities, feel the wind in their hair and have some outdoor fun.
In partnership with Queensland Country Credit Union, the Cycling Without Age program at Rowes Bay is run by Diversional Therapist Chezz Thompson with trained volunteer riders
"The volunteer cyclists use a special electric motor-powered rickshaw style "trishaw" to take residents from aged care homes on scenic bike rides," Chezz explained.
"This has been an extremely popular initiative and the waitlist for use of the bike continues to grow. "Rowes Bay is the perfect place for this to launch as we face the beautiful beach and are so close to the Strand.
"I'm sure our residents will really enjoy the ability to have scenic bike rides along the beach and have the ability to get out and about in the community."
Rowes Bay resident Joyce Bradley enjoyed the maiden voyage saying she can't remember the last time she had this much fun.
"It was so wonderful to feel the wind in my hair. I felt like I was on show, people on the street were waving to me, it was great," she said.
Residents of Bolton Clarke are very keen to sign up for the rides as the residential aged care community faces the beautiful Rowes Bay waterfront – the perfect place to ride.
To find out more about Cycling Without Age you can contact Rowes Bay on 07 4750 3700.
Bolton Clarke has also been involved in the introduction of a Cycling Without Age service for At Home Support clients in Victoria.