Community connection just what the doctor ordered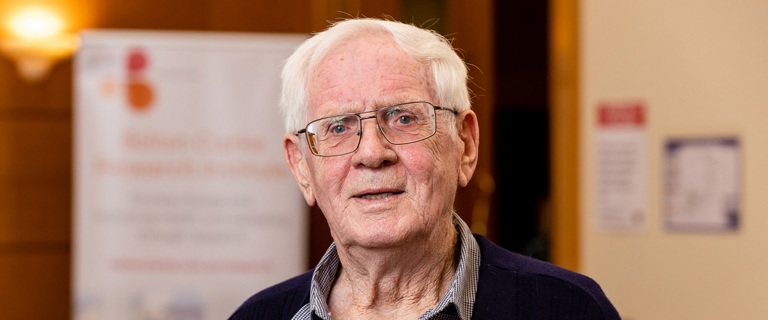 Glen Eira's John Gibson says he knew it was time to address his loneliness when he began going days without speaking to anybody or leaving his home.
John came to Australia from Scotland in 1963 and settled in Caulfield-Carnegie in 1979.
But after losing his wife six months ago he found himself spending days and weeks alone - until he connected with Bolton Clarke's Connect Local program.
The program was co-designed with local residents and aims to promote community health and wellbeing by tackling isolation and loneliness, linking older Glen Eira residents with community groups and activities through trained connectors.
"I just didn't have a clue what to do," John says. "I was going days without speaking to anyone, I couldn't even be bothered going out to look at the garden and didn't go outside for three months.
"Then I picked up the Glen Eira News and just happened to see a bit at the bottom of the page that said something about Connect Local, so I thought I'd fill the form in online and see what happens.
"I was surprised the next day I got a phone call and in less than a week, the team had me fixed up at the community house and the men's shed.
"After my visit to the community house and the men's shed, the Connect Local lady rang me to find out if I enjoyed it, if I'm still interested or whether there was anything else that I wanted to do.
"She always followed up which was a good thing because I could have dropped off quite easily in the beginning.
For John, the program has given him the opportunity to meet new people and fill his calendar with activities he enjoys.
Since contacting Connect Local in March, John has found a renewed interest in life and is now dabbling in his lifelong hobbies such as gardening.
"It's been an extension of all the things that I used to do – I used to do a lot of gardening before and have taken that back up again doing bonsai trees and things like that.
"There are a lot of people who are like me where there was only the two of us, my wife and I, and although we had children, they live too far away so really it was just the two of us.
"We did everything together so when one of us went, the other one was completely lost."
This week (7-14 August) is national Loneliness Awareness Week. Bolton Clarke is proud to partner with Ending Loneliness Together to help end loneliness in Australia, particularly for older people.
Developing programs and services that support connections with families and communities is central to this work, underpinned by the translational research of the Bolton Clarke Research Institute including:
HOW-R-U? volunteer peer telephone support program improving social connection and wellbeing for older people living alone
Connecting Communities to Care codesigned social prescribing model to improve social connection, health and wellbeing for isolated older people
SHARE storytelling program including story circles and intergenerational storytelling, improving transitions to residential care and building connections in communities
SHARE webinar series
Social Connection in Older Age symposia bringing together national and international policy makers, academics and service providers.
Find out more about this work and access the latest Ending Loneliness Together State of the Nation loneliness report here.
Loneliness Awareness Week
7-13 August 2023
Bolton Clarke is pleased to partner with Ending Loneliness Together to tackle loneliness and help people stay connected and healthy.
Find out more