Caring comes naturally for Melbourne nurse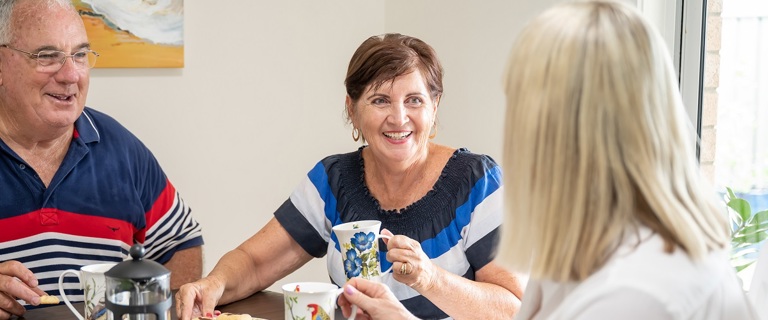 For more than 20 years, Bolton Clarke Clinical Nurse Consultant Kylie Hall has been helping people with chronic health issues including dementia stay independent at home.
Her role has never been more important as she leads her team of nurses in Dandenong to deliver clinical care for older people in their own homes.
"It's very rewarding - we recognise how privileged we are that people let us into their homes to provide the care they need," Kylie says.
"That's why behind every Registered Nurse walking in the door to support someone at home there is a whole experienced team, from researchers to Senior Clinical Nurse Advisors and Clinical Nurse Consultants ensuring clients get the right care."
After graduating in Nursing from Monash University, Kylie says she gained pivotal insights into the sector while working on the job.
"I'd love to educate people that there are so many aspects which form the aged care umbrella from wound care to falls management, shopping, gardening and medication to continence," she says.
She says she loves her role supporting clients with dementia to stay as independent as possible from when they are first is diagnosed through to creating positive transitions into a high-care environment if they can no longer live independently at home.
"It's my job to inform family about the disease and link them to vital community services to support their loved one," she says.
Kylie says some of her duties include supporting the Home Care Package team conversations that enable client choices, supporting people to navigate the aged care system and working on diversity projects to give people with dementia a voice in the care and services they receive.
"Nurses are very important," she says.
"If we didn't have nurses where would we be? The pandemic has shown that.
"I became an aged care nurse because I was interested in helping older Australians live the life they wanted to lead.
"There's a real joy to encouraging teams to look at aged care nursing as a career and gain a better understanding of dementia, mentor them and work with them better to understand the myriad of age care succession planning."
Her advice to others wanting to pave a career in aged care nursing is "go for it."
August 7 is Aged Care Employee Day, dedicated to saying "Thanks for Caring" to all aged care employees supporting older people across Australia.
Tags: Aged Care Employee Day | Clinical Nurse Consultant | At Home Support